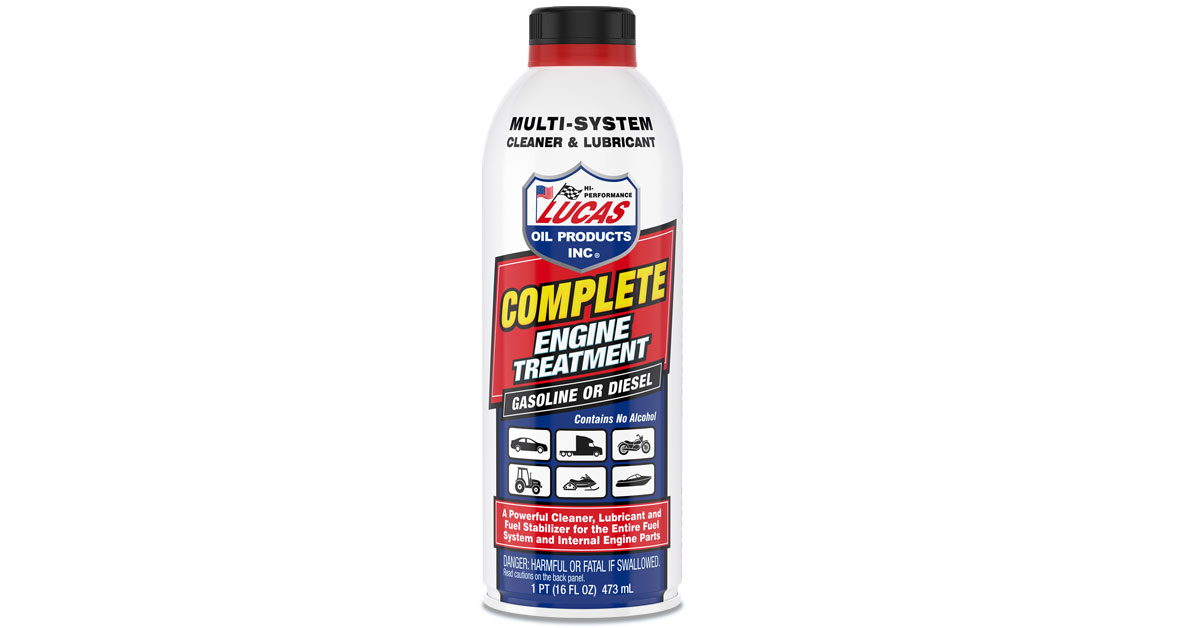 Part #10016 (16 fl. oz)
CORONA, Calif. (September 8, 2020) – Lucas Oil Complete Engine Treatment is a multi-system cleaner and lubricant that improves the overall health and performance of a gas or diesel engine. Manufactured by Lucas Oil Products, the American-based manufacturer and distributor of high-performance automotive oils and additives, Complete Engine Treatment is developed to be safe for use in your vehicle's gas tank and engine oil. Its unique formulation is designed to deliver a wide range of benefits for an expansive list of vehicles, including cars, trucks, motorcycles, tractors, snowmobiles, and more.
Lucas Complete Engine Treatment is manufactured using a blend of powerful detergents that, when added to fuel, cleans and lubricates all components from the fuel tank to the cylinders. This multi-system cleaner and lubricant removes harmful deposits, protects against corrosion, and ensures a more complete burn, increasing power and fuel mileage and lowering emissions. When added to engine oil, Lucas Complete Engine Treatment improves engine cleanliness by removing gum and varnish, while also forming a protective layer against heat.
Key benefits of Lucas Oil's Complete Engine Treatment include:
When added to fuel:
Cleans and lubricates the entire fuel system from the tank to injectors
Removes harmful deposits on intake valves and combustion chamber
Lubricates the upper cylinder walls as well as the compression rings and oil rings
Contains special Lucas additives that cause the fuel to burn thoroughly for fewer exhaust emissions and more MPG
Counteracts the corrosive effect of ethanol in fuel
When added to engine oil:
Improves engine cleanliness reduces gum and varnish, especially in oil burners
Reduces friction and wear
Inhibits oxidation to extend oil life
Lucas Oil Complete Engine Treatment is now available at AutoZone, O'Reilly Auto Parts, NAPA Auto Parts, CarQuest, Advance Auto Parts and more! For a limited time, you can pick up two bottles of Complete Engine Treatment at your local Advance Auto Parts location for only $8.00 or grab a single bottle for $6.99 at CarQuest locations! Offer good until September 25, 2020.