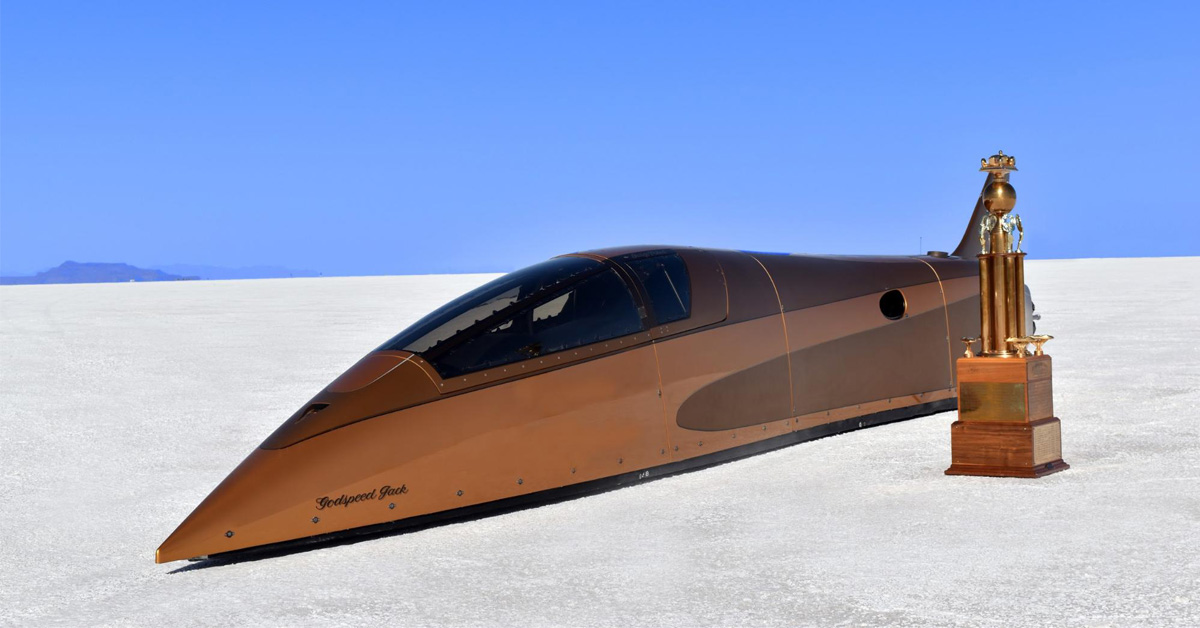 The Speed Demon collected its ninth HOT ROD Magazine trophy for recording the highest terminal-velocity speed at the end of Bonneville's 5-mile course. Photo: John Baechtel
The Lucas Oil Sponsored Streamliner Set One-Way and Two-Way Speed Average Records at Bonneville Speed Week
CORONA, Calif (August 24, 2020) – Lucas Oil Products, the California-based manufacturer and distributor of high-performance automotive oils and additives, completed a record-breaking run at Bonneville Speedweek at the Bonneville Salt Flats in Tooele County in northwestern Utah by successfully surpassing the AA/BFS (Blown Fuel Streamliner) two-way average and one-way last-mile records. Lucas Oil, which served as the official lubricant of the Speed Demon, was instrumental in preparing the vehicle to reach speeds of 481.576 miles per hour (mph) down the last-mile of the course and a two-way average of 470.015 mph thanks to the performance of the PLUS Racing Oil, Heavy Duty Oil Stabilizer, L9 Racing Gear Oil, Synthetic SAE 140 Racing Gear Oil, Slick Mist Detailing Kit and Contact Cleaner.
"We are thrilled to be part of this great success story as the exclusive engine oil and additive supplier for the Speed Demon," said Tom Bogner, Director of Motorsports, Lucas Oil. "Bonneville Speed Week is a challenging event for both man and machine. Many of the world's fastest vehicles come out to run at unbelievable speeds and do so in the harsh conditions of the salt flats. I am so impressed with the Speed Demon team and proud to have Lucas Oil associated with the fastest streamliner at Bonneville."
The veteran Speed Demon pilot, George Poteet, started the Bonneville Speed Week in good spirits after completing a five-mile speed of 469.298 mph on Wednesday – the Speed Demon's then fastest time recorded on the Bonneville Salt Flats. This set the stage for Poteet's record 470.015 mph run Thursday morning.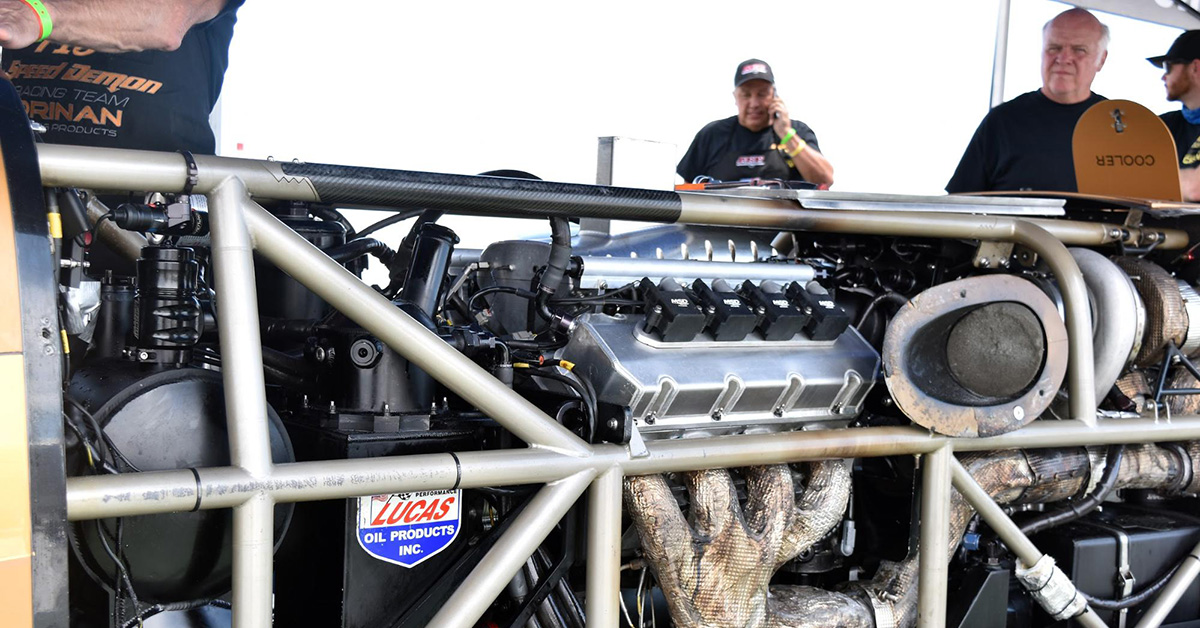 Lucas Oil provided the necessary oils and additives to ensure the Speed Demon's twin-turbo big-block engine produced maximum speeds at Bonneville. Photo: John Baechtel
In the pits, the Speed Demon crew treated the streamliner's 3,156 horsepower, 557 cubic inches, twin-turbo big-block engine with Lucas' PLUS Racing Oil to minimize fuel dilution, resist oxidation and prevent fuel thinning out at high crank-case temperatures. Lucas' Heavy Duty Oil Stabilizer was also used to provide the Speed Demon motor a higher degree of lubricity and reduce operating temperatures along with fuel consumption.
The Speed Demon transmission and rear differential utilized Lucas' L9 Racing Gear Oil mixed with the Synthetic SAE 140 Racing Gear Oil for reduced friction and parasitic drag to give the record-breaking streamliner noticeable gains in power while operating in extremely salty conditions.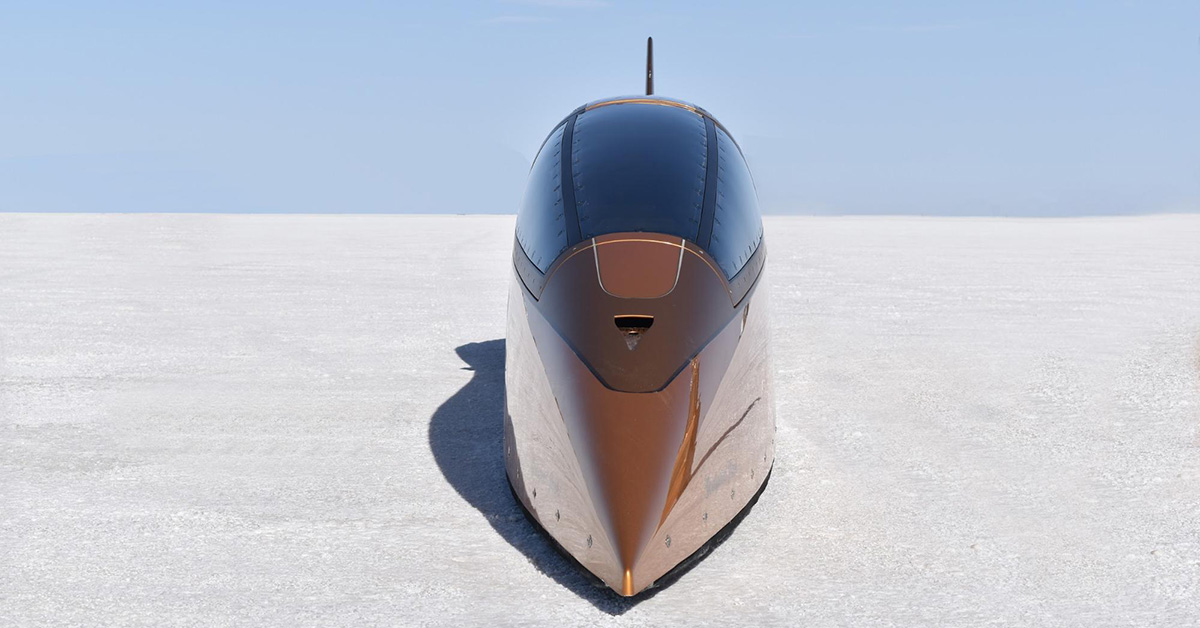 Despite running in harsh, salty conditions, Lucas Oil kept the Speed Demon running and looking its best all week long. Photo: John Baechtel
Lucas Oil's Contact Cleaner was used to keep the engine area clear of any salt and oil, thus eliminating any risk of engine fires. Lucas' Slick Mist Detailing Kit added the final touches to the Speed Demon, giving it a show-room ready shine before heading out to break the AA/BFS one-way and two-way records in style.
The performance by Poteet at this year's Bonneville Speed Week resulted in the Speed Demon team collecting the AA/BFS record for 501 cubic inches or larger forced-induction engines in Streamliners. A record that was previously set 16 years ago by Tom Burkland when he reached a speed of 417.020 mph.
Lucas Oil Products are now available at AutoZone, O'Reilly Auto Parts, NAPA Auto Parts, CarQuest, Advance Auto Parts and more!