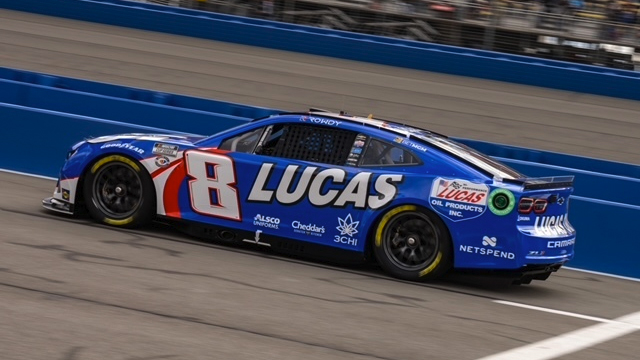 WELCOME, N.C. (May 10, 2023) – Lucas Oil, a long-time partner of both Richard Childress Racing and ECR Engines, returns as the primary sponsor of the No. 8 Lucas Oil Chevrolet driven by Kyle Busch at Darlington Raceway on Sunday, May 14, 2023. The paint scheme of the No. 8 car will be a 'throwback' to February when Kyle Busch took the Lucas Oil Chevrolet to victory lane at Auto Club Speedway. Earlier this year, Lucas Oil announced that it was enhancing its partnership with Richard Childress Racing in 2023 with continued technical and development support of RCR and ECR Engines. The race airs live at 3:00 p.m. ET on FOX.
"We couldn't be more thrilled to be back as the primary sponsor of Kyle's No. 8 Lucas Oil Chevrolet at the historic Darlington Raceway. Fans loved seeing the red, white and blue Lucas Oil colors leading the pack earlier this year, so we decided to bring back our 'throwback' paint scheme to honor Kyle's win at Auto Club in February," said Brandon Bernstein, director of partnership marketing for Lucas Oil. "Having the opportunity to be the primary sponsor of Kyle's car for the second time this season is a tremendous honor for Lucas Oil, and it underscores the strength of our partnership with RCR and ECR Engines. We'll be rooting for Rowdy and look forward to a sensational race."
Since 2014, Lucas Oil has served as the official lubricant of RCR and ECR Engines and is the official motor oil of ECR Engines. ECR Engines and Lucas Oil have recorded a total of 125 wins between 2014 and 2022, with another eight victories in 2023.
"This has already been an incredible season for RCR and ECR Engines, and we can definitely attribute a lot of our on-track success to Lucas Oil's remarkable performance and continued technical support," said Bob Fisher, senior vice president of ECR Engines. "Having Lucas Oil as the primary sponsor of the No. 8 car at Darlington is very special to all of us at RCR and ECR Engines and we believe that our partnership will yield the edge needed to have another shot at victory lane."
Through innovative product research and development, along with aggressive marketing programs, Lucas Oil has established itself as an industry leader, producing only the best line of lubricants and additives available anywhere.
"We continue to see the benefits of having Lucas Oil as the official engine oil of RCR and ECR and we know that it has contributed to the reliability we've shown on track this season," said Torrey Galida, president of RCR. "Lucas Oil is a premier organization with deep racing roots and we're very thankful for the support they provide to both RCR and ECR Engines."
For more information and all that is going on at RCR, visit rcrracing.com.
About Richard Childress Racing:
Richard Childress Racing (www.rcrracing.com) is a renowned, performance-driven racing, marketing and manufacturing organization. Incorporated in 1969, RCR has celebrated over 50 years of racing and earned more than 200 victories and 16 championships, including six in the NASCAR Cup Series with the legendary Dale Earnhardt. RCR was the first organization to win championships in the NASCAR Cup Series, NASCAR Xfinity Series and NASCAR Truck Series and is a three-time winner of the Daytona 500 (1998, 2007, 2018). Its 2023 NASCAR Cup Series lineup includes two-time NASCAR Cup Series champion Kyle Busch (No. 8 Chevrolet) and 2017 Coca-Cola 600 winner and 2018 Daytona 500 champion Austin Dillon (No. 3 Chevrolet). RCR fields a full-time NASCAR Xfinity Series program with Sheldon Creed (No. 2 Chevrolet) and Austin Hill (No. 21 Chevrolet).
Contact:
Jackie Franzil
Vice President, Communications and Partnership Engagement
Richard Childress Racing
Cell: (336) 655-8278
[email protected]