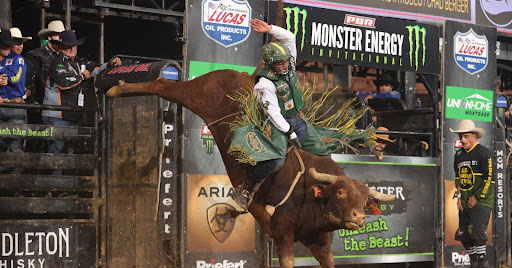 Andy Watson / Bull Stock Media
The 2022 "PBR Unleash The Beast" Tour Spurs Into Action in Indianapolis, home of Lucas Oil, on New Year's Day
INDIANAPOLIS (December 29, 2021) – As PBR (Professional Bull Riders) opens the 2022 Unleash The Beast season in Indianapolis, Lucas Oil Products, the world leader and distributor of high-performance automotive additives and lubricants, will mark over a decade as the "Exclusive and Official Oil" of the world's leading bull riding organization.
As an established multi-year partner, Lucas Oil has become an integral part of growing PBR's footprint and helping reach new markets across North America. The newly formatted 2022 PBR schedule includes a first-ever debut at Gainbridge Fieldhouse in Indianapolis for a New Year's Day season opener. The PBR Monster Energy Invitational will be telecast on CBS Sports Network LIVE on January 1, 2022 at 8 p.m. ET.
"We are thrilled to support the beginning of the 2022 PBR season right here in Indianapolis," said Terina Perry, Director of Event Marketing at Lucas Oil. "Indianapolis is our corporate home, site of the prized Lucas Oil Stadium. The season opener in Indy is a highlight of the PBR tour for us and will launch some great activities we have planned for fans all season long. The athletes and fans of PBR give outstanding support to the sport and its brand partners. We are proud to continue our relationship for years to come."
Lucas Oil's Decade Plus Partnership: Continued and New for the 2022 Season
Unleash the Beast Tour – Lucas Oil is a major sponsor of the elite professional tour opening its season in Indianapolis this weekend and showcasing the best bull riders in the world taking on the rankest bucking bulls.
Grit & Grace – Lucas Oil, along with PBR, is a proud supporter of Grit & Grace, a newly established not-for-profit organization that shines a spotlight on young ladies who lead with courage, grit and grace in all they do. Grit & Grace focuses on personal growth, character, and excellence through a platform of animal welfare, and western sports. Grit & Grace, founded by FOX59 evening News Anchor Fanchon Stinger, will award middle or high school students with a VIP Experience and Scholarship Opportunity. Ten finalists will be invited to The PBR Monster Energy Invitational in Indianapolis to meet PBR celebrities, bull riders and special guests who will educate and encourage the girls to continue their interests. The national scholarship winner will be announced at the PBR World Finals in Fort Worth Texas in May and will receive a scholarship or internship in her area of interest to help build leadership ability, career prep or advance a skill.
The Lucas Oil and PBR sponsorship also puts the Lucas Oil brand in front of millions of fans across the country through prominent signage, branding, broadcast and streaming coverage, fan activations, giveaways and more throughout the season.
"We couldn't be happier to celebrate our ongoing partnership with Lucas Oil," said Josh Baker, Chief Revenue Officer, PBR. "In more than a decade as a top-tier PBR partner, Lucas Oil has had a strong impact on our sport, including their dedication to the Be Cowboy way of life – shared values built on integrity, respect, courage and honor."
New for 2022, the PBR Unleash the Beast and PBR Pendleton Whisky Velocity Tour will unfold within five action-packed months – January to May – with 50 events in 19 weeks. The 2022 PBR season begins inside Gainbridge Fieldhouse in Indianapolis on January 1st, with coverage on CBS Sports in addition to PBR RidePass on Pluto TV. For more information on the full event schedule or to purchase tickets, visit PBR.com.