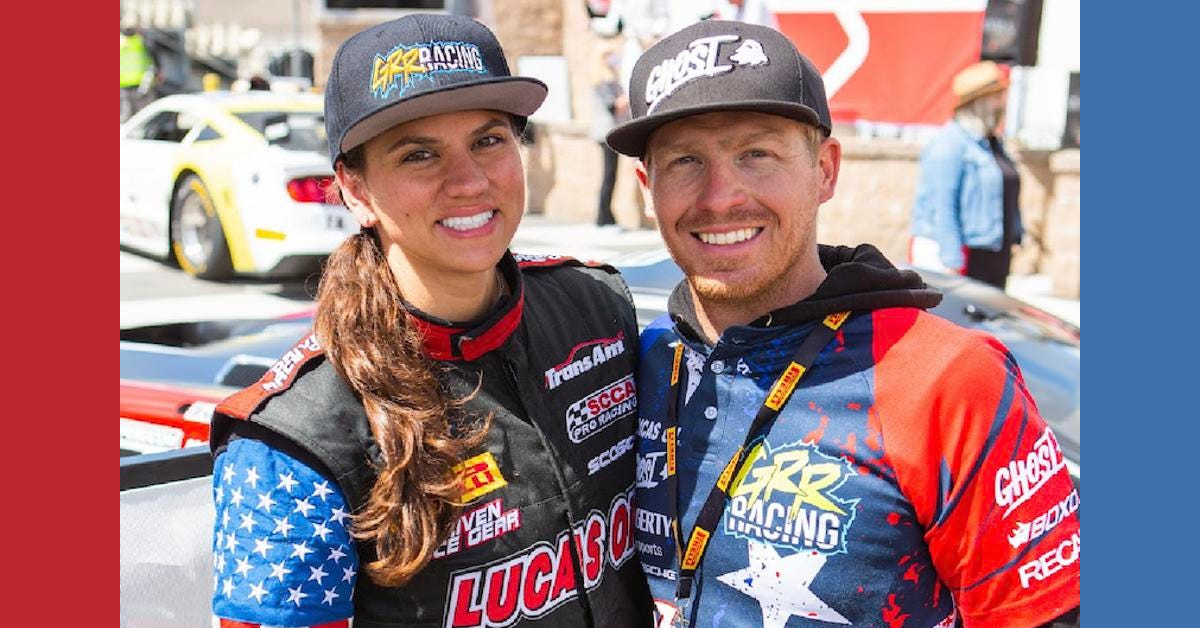 Trans-Am Series TA2 driver Michele Abbate, with her crew chief and husband Anthony Philleo. PHOTO: GRR RACING
Trans-Am Series driver Michele Abbate describes her style much like many of the top competitors in both NASCAR Cup Series and Formula 1. She will tell you that she is aggressive, sometimes opportunistic and occasionally a little cautious. But she's as ready for the moment as anyone.
"When I drive I become a different person," said the 33-year-old Las Vegas native. "I like to say that I am kind of like Cruella de Vil once I'm out there. Before the race I'm calm, but when I hit the track, I don't really have any friends out there."
Long before Abbate and her husband and crew chief Anthony Philleo founded Grr Racing in 2015, Abbate dreamed of making race car driving a career any way she could.
As she tells it, her love of racing began on the sidelines as a young child between the ages of 6 and 12, when she spent weekends watching her older brother race go-karts all across the country.
Then, right after turning 16, she got her driver's license and immediately got involved in SCCA autocross competitions, including the SCCA National Solo, where she got her first podium, finishing behind two former SCCA Champions, in 2007. After driving her way through more grassroots racing channels, Abbate signed on with Scion Racing in 2011. With Scion, she competed in a variety of formats and competitions and earned them their first road racing Championship in 2015. Then in 2019, she made her debut as a professional in the Trans-Am Series.
Last year, Abbate was the only female racer in the Trans-Am Series TA2 category worldwide. During the 2020 season, she secured second place in the Trans-Am West Coast series, trailing by just three points when the final race was canceled due to Covid-19. This year, she finished fifth overall in the championship, and also made her debut in the NASCAR Truck Series in May 2021, at the Circuit of the Americas in Austin, Texas, where she finished 29th overall.
While running in more NASCAR races is definitely a goal, the driver of the No. 30 Lucas Oil Grr Racing TA2 Chevy Camaro also says that the Trans-Am Series is a great place to compete, and is a format that tests the mettle of any driver.
"The competition is very steep, so you can't be intimidated. It's raw. Like NASCAR, our cars have no ABS, no driver assists, and to drive a TA2 car, you have to be very aggressive and very competent."
The Trans-Am Series was established in 1966, by the Sports Car Club of America, and along with its TA and TA2 tube-chassis V8 formats, Trans-Am runs three GT touring car or "production based" formats. Trans-Am runs races from February to November, and consists of a series of 100-mile races that field up to 50 cars in each race.
Hustle on and off the track
One thing that a lot of Americans may not know about race car driving at every level is how entrepreneurial the sport is. While leagues such as the NASCAR Cup Series take on what are called "premier partners"—currently Coca-Cola, Xfinity, Busch Beer and GEICO sponsor major operations—NASCAR's top drivers themselves are bankrolled by their big and well-seated racings teams. Among these well-known drivers are 2021 Cup Series champion Kyle Larson as well as the 2020 champ Chase Elliott and Kyle Busch, who won both the regular season and Cup Series in 2019.
As such, on any given Sunday you will see Kyle Busch's No. 18 Toyota Camry don the bright logo and colors of M&Ms candy and its affiliate products, while Chase Elliott's No. 9 Chevrolet Camaro will most often display the navy and gold Napa Auto Parts logo over prominently over its hood.
Meanwhile, the vast majority of smaller teams persist on a series of sponsorships that pay for everything from oil to brakes to spark plugs, as well as race entry fees. Often these sponsorships are put in place by team owners and drivers.
Abbate says that she courted and earned her own sponsors at a young age, early on in her racing career.
"I have been finding sponsors ever since I started driving even at the autocross level just because I didn't have family backing or an angel investor that could write the big check," Abbate said. "What's funny is that the first race car I ever raced, you look at it and it had 30 sponsors on it."
Abbate noted that when she and her husband built the race car, anyone willing to give them parts or fluids, or contribute in any way would get their logo on the car.
"As I've progressed in my career, I've created exclusive relationships with my partners and sponsors long-term, and now I am very proud to be able to authentically represent the companies I work with on and off the track."
Last year Abbate and Grr Racing secured Lucas Oil as the title sponsor for her cars.
Off the track, both Abbate and her husband have regular day jobs. Abbate, who has a Bachelor's Degree in Communications & Marketing from UNLV, works what she calls her "nine to five" as a marketing professional in Las Vegas' thriving gaming industry. Her husband, Anthony, is a service technician for a nationwide door company. Both live and work full-time in Las Vegas.
The driver says that both of them have careers with some flexibility that allows them to participate in the Trans-Am Series. Races occur every two to three weeks, primarily as long weekend excursions
"My boss has been awesome. When I interviewed at first for the job three years ago, I told her when my race dates are, I won't be here."
NASCAR debut
"Most people have no idea, and think I just got paid to race NASCAR. Racing is like no other sport, in that it costs so much money to do."
In order to participate in the NASCAR Camping World Truck Series Toyota Tundra 225 at Circuit Of The Americas this past May, Abbate and Grr Racing looked to partner with a racing team established in the Truck Series, NASCAR's third tier. In searching out teams, Abbate said she found out that the cost to field herself and a car in the race was anywhere from $20,000 to over $210,000.
"A lot of the cost of a race is made up of different factors," Abbate said. "Things to consider include the specific race you want to participate in, how far the team has to travel, the equipment, wear and tear, crash damages, and the cost of a good pit crew."
In the end Abbate and Grr Racing partnered up with On Point Racing for the Toyota Tundra 225, her debut NASCAR Truck Series race.
"I wasn't going to COTA (Circuit Of The Americas) to win the race," Abbate adds. "I was going there just to be in the race."
Abbate considers her NASCAR Truck Series both a career milestone and one more step in her path of success. At the Toyota Tundra 225 she out-qualified up-and-coming star Hailie Deegan and also finished the race on the lead lap.
Abbate said that she loves the entrepreneurial part of owning her own small racing team, and that the name of Grr Racing—pronounced "gurr"—comes directly from passion for racing and motorsports.
"Grr Racing is about the grit and the grind, and about perseverance. Racing is a lifestyle," Abbate said. "But it's about prioritizing, making good decisions so that we can keep racing each year."
---
Original article by Andy Frye of Forbes.com