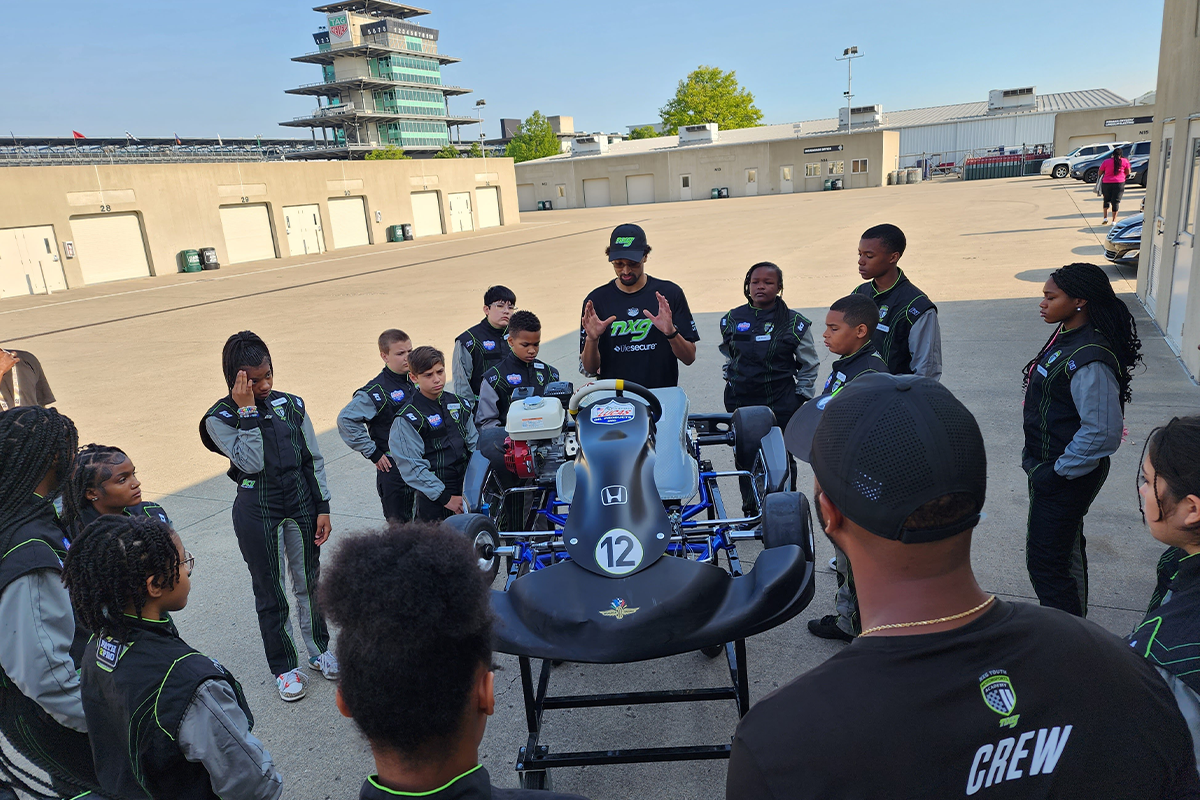 INDIANAPOLIS (September 12, 2023) – Lucas Oil Products, the world leader and distributor of high-performance automotive additives and lubricants, is proud to highlight its ongoing commitment to NXG Youth Motorsports, a nonprofit organization dedicated to providing experiential learning opportunities to primarily black youth and other underrepresented minorities. By utilizing the exciting world of motorsports as a training tool for math, science, self-discipline, decision-making, and communication, NXG Youth Motorsports empowers young individuals to thrive in STEM education and beyond.
"The partnership between Lucas Oil and NXG exemplifies our shared vision of empowering the next generation through STEM education and motorsports," said Michael Smith, community and engagement director for NXG Youth Motorsports. "We are grateful for Lucas Oil's unwavering support these past 17 years, helping us provide life-changing opportunities to girls and boys from underrepresented backgrounds, setting them on a path to success in both academic and professional realms."
The comprehensive program offered by NXG Youth Motorsports encompasses both classroom and hands-on instruction, along with thrilling on-track activities. Students gain invaluable knowledge about the mechanics of kart racing while developing safe performance driving skills. STEM education is at the heart of the curriculum, enabling participants to apply science and engineering lessons into real-world applications. Graduates of the program have gone on to pursue successful careers as technicians in motorsports programs such as Force Indy Racing.
"We are steadfast supporters of NXG and their efforts to instill technical skills and enthusiasm for motorsports in young men and women," said Katie Lucas, Chief Administrative Officer at Lucas Oil. "We recognize the profound impact that participation in NXG can have on children's lives, providing them with a gateway to develop crucial STEM education and life skills while immersing them in a thrilling and engaging way. It's such an honor to be part of shaping the next generation of motorsports athletes, engineers, technicians and leaders."
One of NXG's premiere programs is the NXG Grand Prix, a competitive go-kart racing series designed exclusively for NXG Academy graduates who are between 12 and 15 years old. The controlled environment allows young racers to showcase their talents and compete against fellow participants in six to eight rounds each season, with a Driver of the Year and Champion recognized at the season finale event.
Gabriel Jones, a young man currently enrolled in the NXG Grand Prix program, travels from Detroit to Indianapolis to participate in the competition. "I am having so much fun at NXG. The tracks are a blast to race on and I love learning and competing at the same time. There's so much more to racing than I ever imagined. Strategy, reading the track, feeling the cart and knowing how it works and why. It's a great feeling, and this is definitely something to pursue as a career. I'm excited to keep learning, racing and getting better. It's just been an incredible experience for me," added Jones.
The NXG Grand Prix Finale is scheduled to take place on September 23, 2023 at 10 a.m. ET at the Indianapolis Motor Speedway 5th Street Lot.