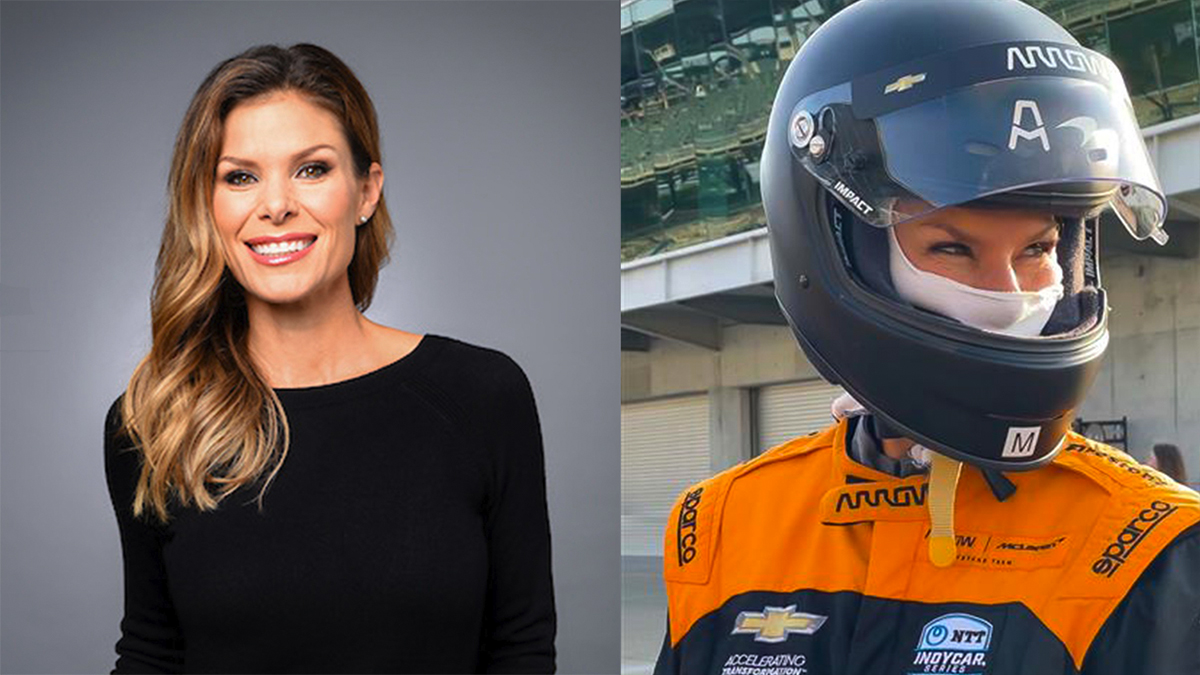 INDIANAPOLIS (June 15, 2023) – Lucas Oil Products, the world leader and distributor of high-performance automotive additives and lubricants, is thrilled to announce the addition of veteran motorsports reporter Jamie Little as its newest brand ambassador. As one of the most recognizable figures in motorsports television, Little joins an exclusive group of brand ambassadors and key partnerships across several different sports including NFL, NASCAR, NHRA, INDYCAR, Monster Jam, PBR and more.
In her role, she is helping the brand create rich multimedia content through interviews and experiences with current brand ambassadors and partners, as well creating social media posts by sharing how she uses Lucas Oil products in her daily life on social media. In one of her first segments, Jamie sat down with ECR Engines SVP Bob Fisher to discuss Lucas Oil's partnership with Richard Childress Racing and ECR Engines, and shared her experiences  taking a few high-speed laps at the Indianapolis Motor Speedway in an two-seat Arrow McLaren Indy Car.
"For more than two decades, millions of fans around the world have been watching Jamie Little bring her unique style of reporting to several different racing series, especially INDYCAR and NASCAR, and it is a true honor to have her as part of the Lucas Oil family of brand ambassadors," said Brandon Bernstein, Director of Partnership Marketing. "Jamie has been entrenched in motorsports her entire life and brings a unique perspective to the Lucas Oil brand. She understands our commitment to excellence and we know her dynamic personality and respect in the sports broadcasting world will help elevate the Lucas Oil brand to new audiences."
Jamie's career in broadcasting began in 1998 with ESPN as a reporter for both the Summer and Winter X-Games. She worked as a pit reporter for several years with ESPN/ABC covering the INDYCAR series, which included 11 Indianapolis 500s. In 2015, she joined Fox Sports and has worked as a pit reporter for all three of their national touring series. In 2021, she was tapped to be the lead announcer for the ARCA Menards Series, making history as the first woman to work as the lead television play-by-play announcer for a national motorsports series. In 2023, she added to her play-by-play duties with the addition of the NASCAR Craftsman Truck series, becoming the first woman lead announcer for NASCAR.
"The Lucas Oil organization has built an iconic presence in the motorsports industry and I am absolutely thrilled to bring my passion for racing and experience in broadcasting to their family of brand ambassadors," Little said. "This is my opportunity to share how Lucas Oil has used its success on the track to create incredible products that help everyday drivers get better fuel mileage, reduce wear and tear on their engines and save money. I am very proud to be working with such a great organization and I'm looking forward to creating some fun content."
For more information about Lucas Oil's brand ambassador program or to schedule an interview, please contact [email protected].