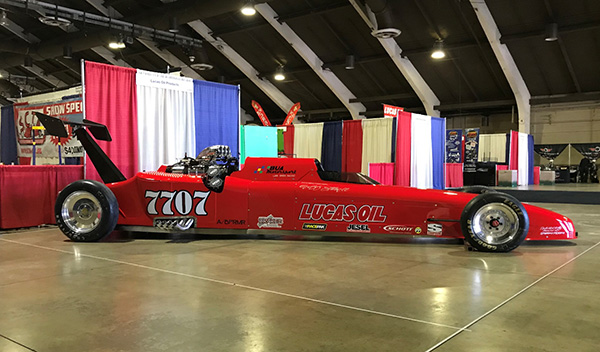 7707 Lucas Oil Landspeed Car
Pomona, CA (January 16-19, 2020) – January 16th to the 19th 2020 at the world famous Pomona County Fairgrounds in Los Angeles, USA saw the debut of the new 2020 updated 7707 Lucas Oil Landspeed car owned and driven by British Businessman Geoff Stilwell at the Grand National Roadster Show. One of the largest car shows with over 2000 cars on display.
The build of 7707 was headed up by award winning "Mick Jenkins" at the famous "Mick's Paint and Landspeed Workshops www.mickspaint.com in Los Angeles with most of the design work created by fellow Landspeed Racer Kiwi Steve Davies. Since August 2019 the car has received a few updates and one very important piece of equipment – A new Carbon Fibre "Spitzer" rear wing. This will help the Supercharged and Injected "NITRO" burning V8 – 5000 bhp race car stay straight when Geoff is charging down the Bonneville Salt Flats this August trying to set a new Class record at over 300mph. Assembling the car sees the team use LUCAS OIL Products Exclusively. Team owner Geoff Stilwell said, "When you are building a car that can exceed 300mph you need to be able to rely on everything working properly. So we use as many of the top Lucas Oil products as we can. From Cleaner, to Engine Oil, Assembly lube, Transmission oil to Spray polish and the Penetrating Oil especially as this protects all the "Heim Joints from the ravages of the Salt".
During the show many famous names from the world of motor racing called by to see the Lucas Oil Landspeed Car including NHRA Champion Drag Racer "Fast" Jack Beckman, 200mph Landspeed club member Donny Cummins, Tom Bognor from Lucas Oil, Plus many other guests including SEMA Hall of Fame Members Joe Schubeck and Gigi Carlson and not forgetting Bob & Sharon Muravez AKA Floyd Lippencotte.
The car has now returned to the workshops to be readied for its next outing at the "Nitro Revival" which is staged at the legendary Irwindale Raceway, Los Angeles in May and then it will be Speedweek in August.
You can follow this project on Facebook at Saltflat Racer