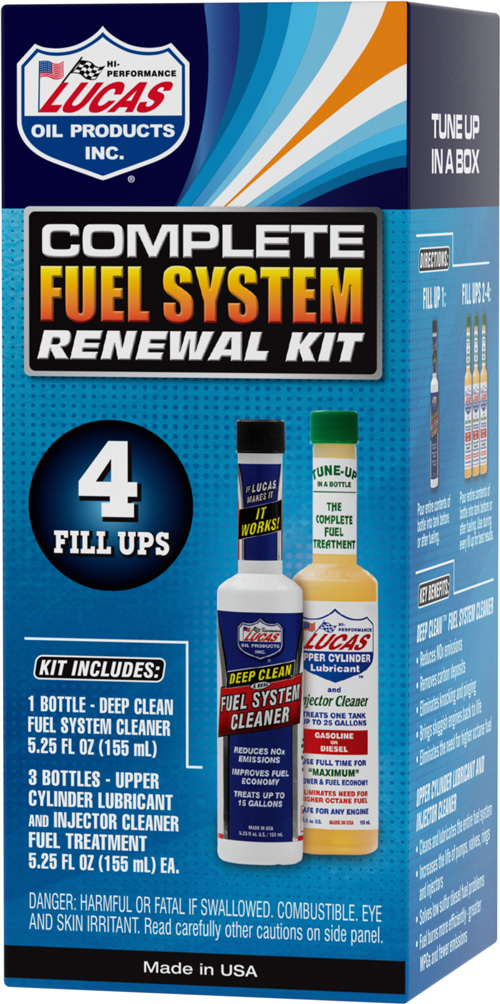 Part #10966 – 4 Pack
The All-In-One Fuel System Maintenance Solution
CORONA, Calif. (February 10, 2020) – The Lucas Oil Complete Fuel System Renewal Kit is a convenient and effective "tune-up in a box" that combines the power of two of Lucas Oil's most popular fuel system additives. Manufactured by Lucas Oil Products, the American-based distributor and manufacturer of additives and lubricant products, the renewal kit is designed to remove gum, varnish, carbon deposits and corrosion from engines in just four fill-ups.
"Our Complete Fuel System Renewal Kit is the only kit available on the market today that can restore your vehicle's performance in as little as four uses," says Morgan Lucas, SVP of Sales, Lucas Oil Products. "By pairing the Lucas Fuel Treatment with our Deep Clean Fuel System Cleaner, our renewal kit provides deep cleaning abilities and benefits to engine power and fuel mileage that are far superior to competing brands."
Designed to contain everything needed for a quick fuel system cleaning in an easy to carry package, each kit includes one bottle of Lucas Deep Clean Fuel System Cleaner and three bottles of Lucas Fuel Treatment. Combining the powerful, solvent-free oils and additives found in Lucas Fuel Treatment with the exclusive additive package from the Deep Clean Fuel System Cleaner allows this renewal kit to eliminate pinging and knocking caused by cylinder deposits, and reduce NOx carbon monoxide (CO) and hydrocarbon (HC) emissions. Additionally, Lucas Fuel System Renewal Kit can thoroughly clean and lubricate your entire fuel system and upper cylinder area.
When used regularly, the Lucas Complete Fuel System Renewal Kit achieves the following benefits:
Brings sluggish engines back to life
Eliminates the need for higher octane fuel
Increases engine life
Fuel burns more efficiently – raising MPG with fewer emissions
Lucas Complete Fuel System Renewal Kit is now available at AutoZone, O'Reilly Auto Parts, NAPA Auto Parts, CarQuest, Advance Auto Parts and more!