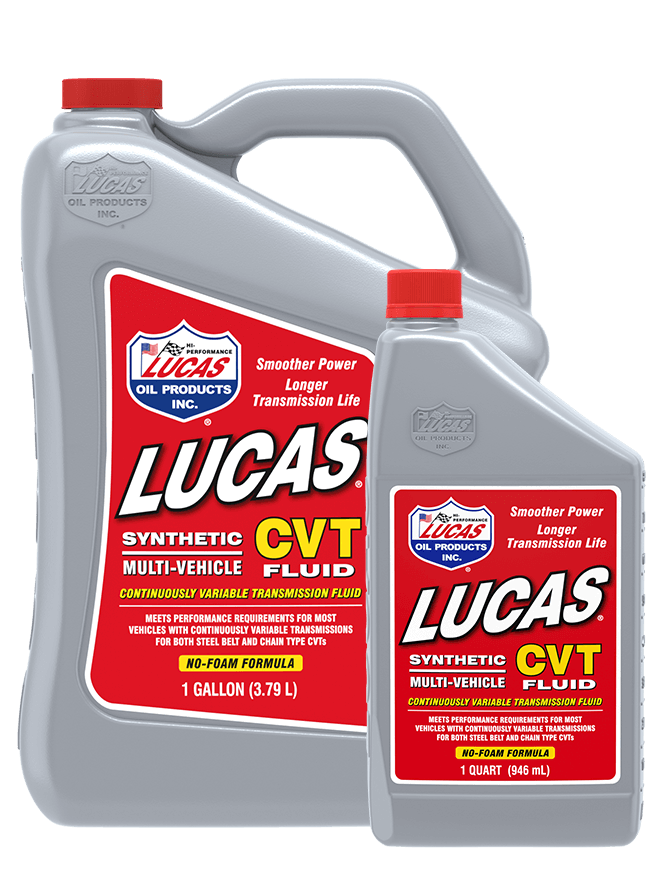 Synthetic Multi-Vehicle CVT Fluid
Lucas Synthetic Multi-Vehicle CVT Fluid is a premium, full synthetic transmission fluid specifically designed for use in passenger cars with steel belt-driven or chain continuously variable transmissions. Lucas CVT Fluid guards against wear & corrosion. It resists shear thinning better than typical CVT fluids. Lucas CVT Fluid provides superior cooling, & excellent low-temperature fluidity for smoother operation in cold weather.
Its balanced coefficient of friction to insure good adhesion between CVT belt and pulleys - no slippage. Protects against sludge and varnish formation. Excellent oxidation resistance and thermal stability. It has a low coefficient of friction between steel and clutch material to eliminate shudder. It has been specifically engineered to have the unique frictional properties required for use in this type transmission.
Key Benefits
Guards against wear & corrosion
Resists shear thinning better than typical CVT fluids
Excellent oxidation resistance and thermal stability
Packaging
| | | |
| --- | --- | --- |
| #10111 | 1 Quart (Case of 6) | 13 lbs |
| #10112 | 1 Gallon (Case of 4) | 33 lbs |