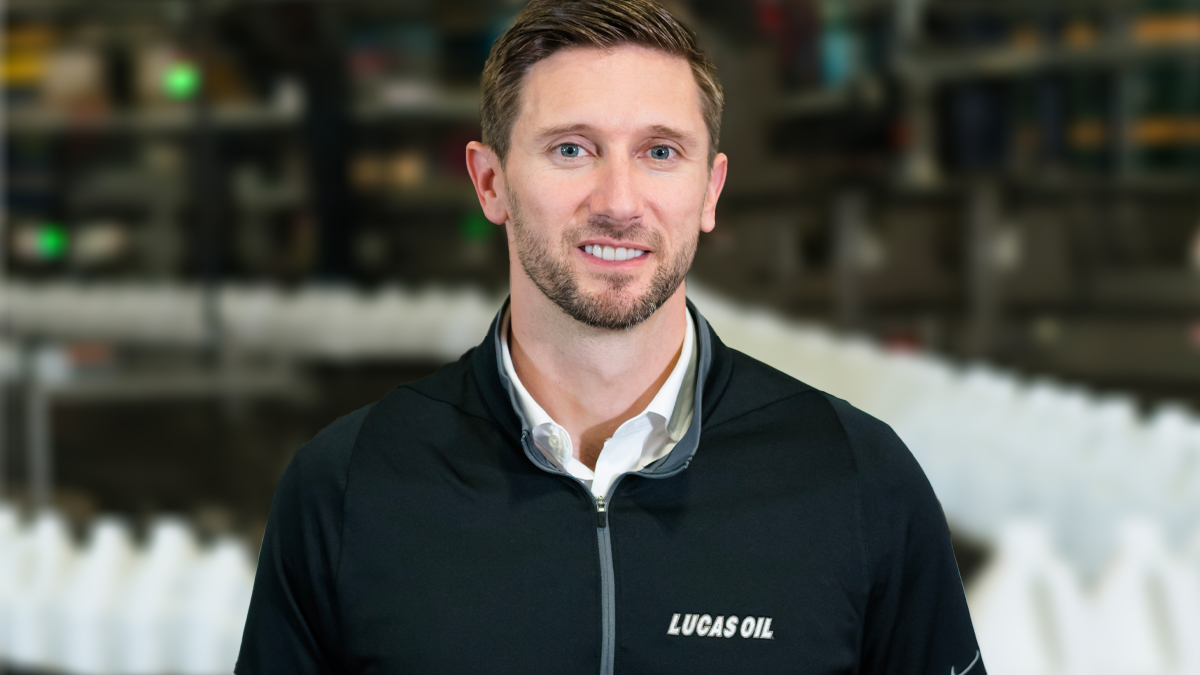 INDIANAPOLIS (April 21, 2023) – Lucas Oil Products, the world leader and distributor of high-performance automotive additives and lubricants, is pleased to announce Morgan Lucas has been named as one of the 2023 Forty Under 40 honorees by Indiana Business Journal. The list highlights local business and professional leaders who have achieved success, excelled in their field and demonstrated leadership, initiative and dedication in pursuing their careers before the age of 40.
"Morgan has an incredible spirit and is deeply devoted to his family, our community and the Lucas Oil team," said Forrest Lucas, CEO of Lucas Oil. "As a leader, his passion for excellence influences the culture, vision and drives the collective pursuit of continuous improvement. He has the pulse on emerging automotive trends – always thinking about product development and the best ways to bring superior solutions to automotive categories like heavy-duty transportation and efficiency-focused fleets. He has proven time and again that building on one success at a time is the key to long-term achievement, and we are incredibly proud to see him continue to build our solutions-driven company."
As the President of Lucas Oil, Morgan has been an integral part of growing the company's sales department and further expanding the research and development team. He redefined the sales team's structure and performance goals to meet the needs of current customers while preparing Lucas Oil for future growth opportunities, adapting the organization to meet the needs of the next generation.
Morgan has initiated several bold changes designed to improve the company's operational efficiency and maximize corporate resources, including an evolution of Lucas Oil's diverse product line. Specifically, he used lessons learned from his racing career and working with the company's high-performance racing oils and lubricants to develop several new commercial products that bring a unique diversification to the company's core product lines. Lucas maintains the family-based, entrepreneurial atmosphere of aggressive problem-solving products that have come to define Lucas Oil.
"It gives me a huge sense of pride when a customer tells me how one of our products fixed a problem and extended the life of their vehicle.  That's what it's all about for me, and none of this would be possible without the amazing team that I work with on a daily basis," said Morgan. "They take such immense care in what they do, and we share strong values tied to customer support and service. The genesis of Lucas Oil was to improve performance while reducing breakdowns and parts failures, and we've applied that vision to new verticals and new industries with the same amount of passion and drive. Our team is incredible, and I am grateful to have the opportunity to work with them, they are part of the Lucas Oil legacy."
Before taking an expanded role with the company, Lucas served as driver and team owner of Morgan Lucas Racing where he earned 12 NHRA Top Fuel Wally trophies and another 11 competing in the Top Alcohol Dragster class. For more than 10 years, Morgan represented the Lucas Oil brand at races across the country and different charity events sponsored by MLR.
In addition to racing and corporate achievements, Morgan has also dedicated a major portion of his life to giving back through Lucas Oil's philanthropic initiatives which span several local and national organizations. For the last 14 years, he and his wife Katie have hosted the annual Eric Medlen Golf Outing benefiting Peyton Manning Children's Hospital at Ascension St. Vincent. The annual event has raised more than $1 million for the children's hospital.
Morgan serves on the National Advisory Council for the National Medal of Honor Museum, which will become the premier national institution dedicated to the stories, impact, and legacy of service members who earned the Medal of Honor. He also supports community events led by Lucas Oil corporate partners which include the Indianapolis Colts and Dallas Cowboys. These events are focused on serving those in need throughout the community, including children through playground builds or feeding the underserved through food service.
Additional information on this year's honorees will be featured in the April 21, 2023, issue of Indiana Business Journal.To schedule an interview with Morgan Lucas, please contact [email protected].