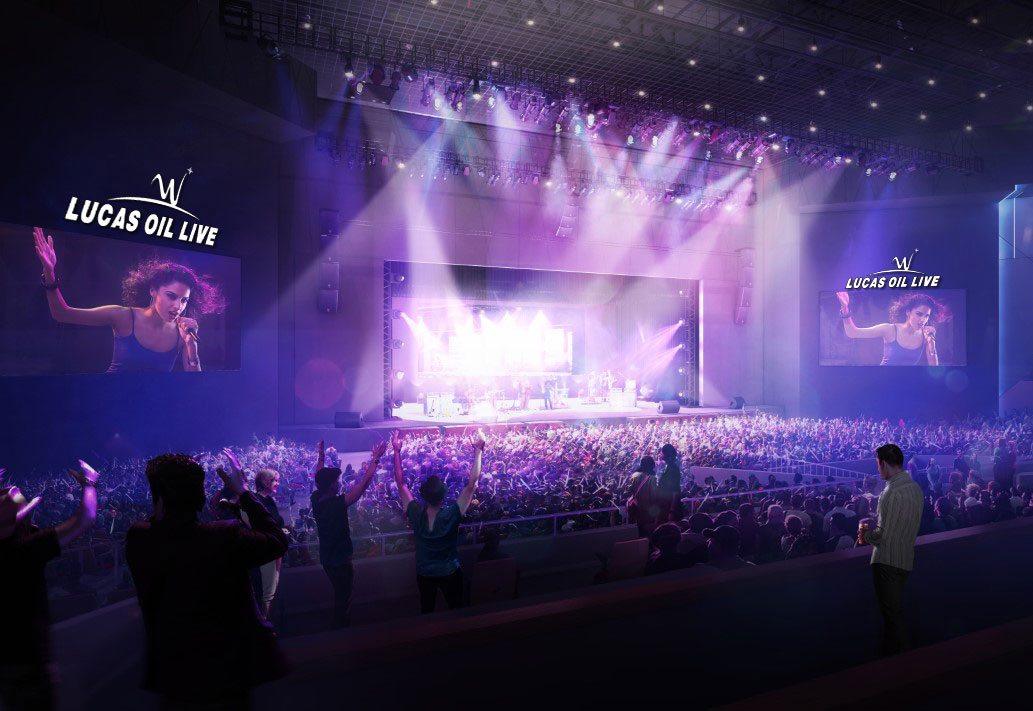 Lucas Oil Live to have capacity of over 6,500 seats
THACKERVILLE, Okla. (Feb. 21, 2023) – Officials with Lucas Oil Products and WinStar World Casino and Resort today announced a partnership that includes the naming rights for WinStar's new events arena set to open in 2023. The casino-resort's new 6,500-seat arena will be called Lucas Oil Live.
"The Lucas Oil Live venue enhances the resort experience for our patrons and music fans alike as we welcome back live entertainment," said Jack Parkinson, WinStar World Casino and Resort general manager. "Our guests will be able to enjoy an electric atmosphere in a venue that's almost twice the capacity of our previous venue and offers added amenities that enhance the live entertainment experience. The sound and technical capabilities of this new venue enable us to continue attracting the industry's most popular entertainers.
"We are excited and honored for this partnership with Lucas Oil, and we're looking forward to the return of live entertainment at WinStar World Casino and Resort in a world-class music venue," Parkinson added.
Indianapolis-based Lucas Oil produces high performance automotive lubricants and additives. Lucas Oil boasts more than 300 premium products with a distribution network across 48 countries.
"The continued evolution of the Lucas Oil brand is giving us the chance to form unique and exciting new partnerships, which is why we are thrilled to be working with WinStar World Casino and Resort," said Morgan Lucas, Lucas Oil president. "This opportunity presents us with a chance to reach new audiences of vehicle owners and drivers who can benefit from our products, and we are extremely proud to have the Lucas name associated with WinStar's new events arena, an entertainment destination that will serve as host to some of the nation's best live music and events."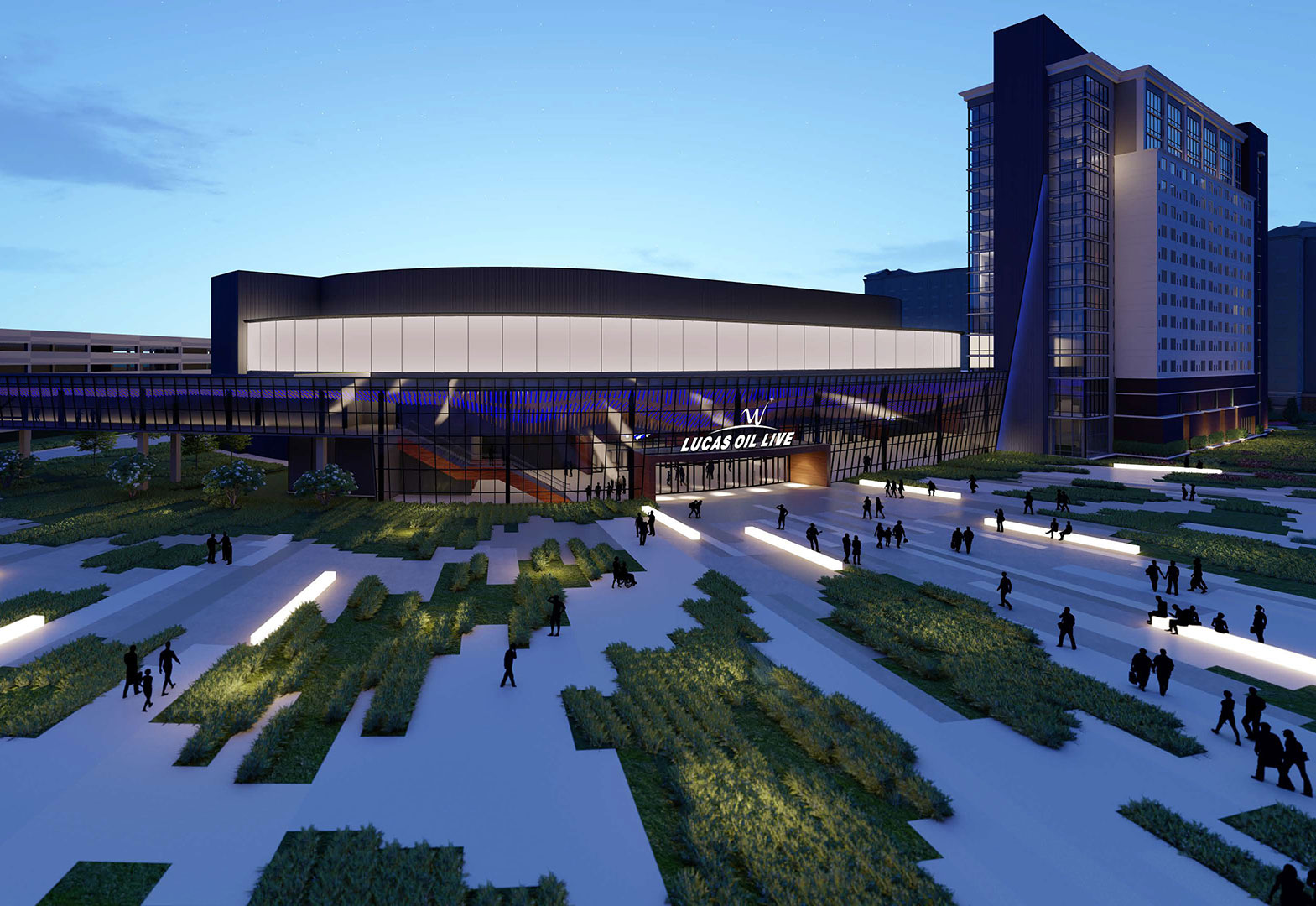 Lucas Oil Live at WinStar World Casino and Resort is a 250,000-square-foot, state-of-the-art entertainment venue with a capacity of over 6,500, including dedicated VIP, Club and Suite seating. The venue's concourse adjoins WinStar's newly opened, 304-room Spa Tower Hotel and features a new eatery, Session House Gastropub, and two new bars dedicated to concerts. Lucas Oil Live's amphitheater-style venue gives concertgoers easy access to multiple concessions venues on each level to serve patrons' needs conveniently. The venue also features a flexible VIP lounge that can be sized to fit the needs of groups for concerts, events and midweek meetings.
Guests can easily access Lucas Oil Live's concourse three ways: from a new exterior parking lot, through the existing casino/hotel or via a skybridge from a new parking garage with over 1,200 parking spaces. Once inside the venue, guests can navigate to their seats using elevators, stairs or escalators as well as numerous wayfinding digital directories.
Lucas Oil Live replaces the Global Event Center as the casino-resort's primary indoor concert venue. The Global Event Center was renovated in 2022 into a non-smoking gaming destination in the Rome Gaming Plaza.
Concerts and events will return to WinStar World Casino and Resort this fall with the grand opening of Lucas Oil Live. An event schedule and ticket information will be found on WinStar.com and on WinStar's social channels soon.
HGB Design of Memphis, Tenn., is serving as the architect for Lucas Oil Live and Manhattan Construction Co. of Tulsa, Okla., is the contractor to build the venue. Civil engineering services are being provided by EST of Oklahoma City while Uzun + Case of Atlanta and Kimley-Horn and Associates of Oklahoma City are serving as the project's structural engineers. Smith Seckman Reed of Dallas is providing mechanical, electrical and plumbing engineering.
Schuler Shook of Dallas is providing the specialty lighting and theater planning. Jaffe Holden of Norwalk, Conn., is serving as the audio/visual engineer and Sturm Consulting of Tulsa, is serving as the food service consultant. Landscape architecture is being provided by Innovations Design Group of Orlando, Fla., and the signage consultant is Lorenc + Yoo Design of Roswell, Ga.
About WinStar World Casino and Resort
With more games than any other casino in the world, WinStar World Casino and Resort offers unrivaled gaming action with its nearly 10,500 electronic games and over 100 table games found throughout its expansive gaming floor. In addition to its gaming, the casino-resort includes the luxurious WinStar World Casino Hotel with over 1,700 rooms, WinStar Golf Club with its two championship, 18-hole golf courses and WinStar Golf Academy, the WinStar Convention Center and over 20 restaurants open daily. Located on the Texas/Oklahoma state line along Interstate 35, WinStar World Casino and Resort presents unmatched gaming action 24 hours a day, 7 days a week. Be sure to visit WinStar.com for the most updated information before your next trip to WinStar World Casino and Resort.