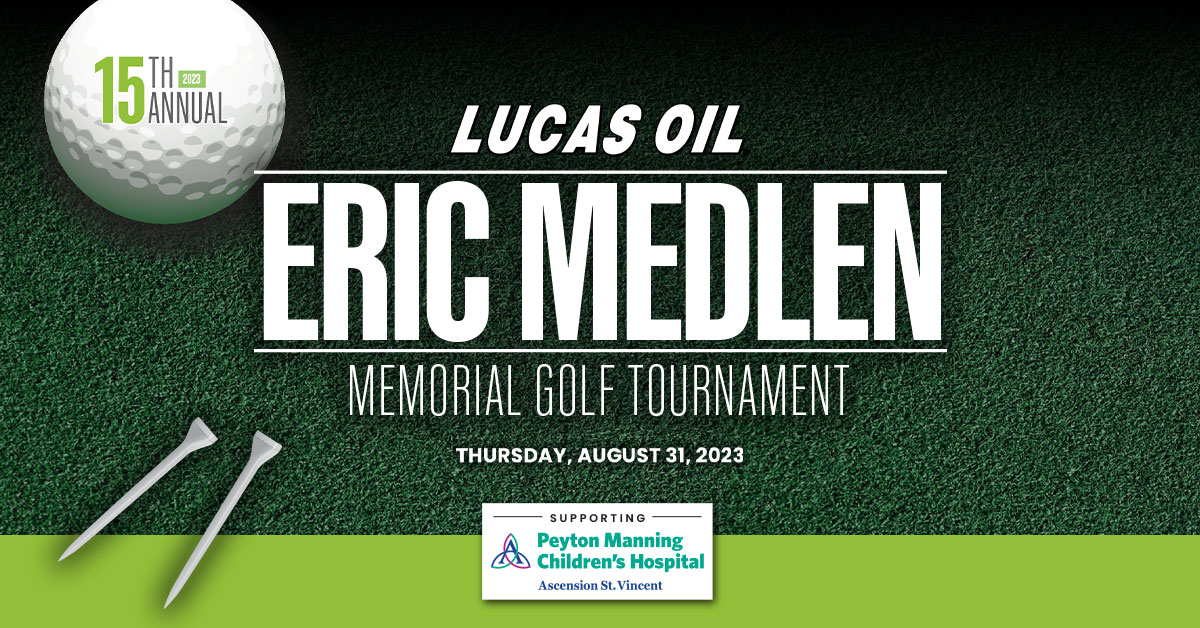 Lucas Oil celebrates 15 years of impact hosting the Lucas Oil Eric Medlen Memorial Golf Tournament – raising over $1,000,000 for Peyton Manning Children's Hospital at Ascension St. Vincent and honoring friend and late NHRA Funny Car driver Eric Medlen
Tournament registration is now open – players can register as a foursome or single at https://www.ericmedlenmemorial.com/
INDIANAPOLIS (February 2, 2023) – Lucas Oil Products, opens registration for the 15th Annual Lucas Oil Eric Medlen Memorial Golf Tournament to be held at the Eagle Creek Golf Course on August 31, 2023. The annual event honors the late NHRA Funny Car driver Eric Medlen and all funds raised from the charity tournament are donated to Peyton Manning Children's Hospital (PMCH) at Ascension St. Vincent.
All money raised from this year's memorial tournament will support the new Women and Children's Tower at Ascension St. Vincent and Dr. Jodi Smith's pediatric neurology research. This new 268,000-square-foot six-story tower will include 109 all-private newborn intensive care rooms, allowing mothers and babies to be cared for in the same place. To date, over $1,000,000 has been donated to PMCH and has helped fund a pediatric MRI suite, the St. Vincent House, a teaching classroom and most recently, Dr. Smith's pediatric neurology research.
"This year marks the 15-year milestone of our Lucas Oil Eric Medlen Memorial Tournament and I am so humbled by the years of generous support from our corporate partners, clients and friends to not only honor Eric's legacy but to raise funds to provide new equipment, facilities and resources to improve the care of children at Peyton Manning Children's Hospital," said Katie Lucas, Chief Administrative Officer of Lucas Oil. "Since the first tournament in 2009, we have been able to donate over one million dollars to the children's hospital, and we hope that number will continue to grow as a lasting reminder of Eric's life and what he meant to his friends and the racing community."
Eric Medlen was a talented and aspiring young Funny Car driver when he was fatally injured from a crash during testing. Remembered for his charismatic personality and talents off the race course, Medlen possessed various talents and was generous and kind on and off the race track. He was a champion calf roper in high school, an accomplished designer and painter and had a passion for building custom motorcycles.
Medlen's death served as a catalyst for the first significant redesign of the Funny Car in 30 years. His team John Force Racing developed the "Eric Medlen Chassis," adding padded roll bars as a safety requirement for the protection of drivers.
"It's hard to believe that over 15 years have passed since we lost Eric but it warms my heart to see how much this tournament has grown, how many people gather together each year to remember him and donate to a deserving cause in his memory." said Morgan Lucas, President of Lucas Oil. "I think that Eric would have been proud of the event's impact. We are always striving to live up to his incredible and positive spirit."
In addition to golf opportunities, there are also several sponsorship opportunities available for companies and individuals to show their support to the tournament and children's hospital. Thanks to generous long term sponsors like the Indianapolis Colts, Kalitta Motorsports, Lubrizol, and Webster West Packaging, the memorial event has surpassed one million dollars in donations to PMCH.
To register for the tournament or view available sponsorships, please visit www.EricMedlenMemorial.com or contact [email protected].
About Peyton Manning Children's Hospital at Ascension St. Vincent
Peyton Manning Children's Hospital at Ascension St. Vincent (PMCH) is a full service, dedicated children's medical center providing the highest quality, family-centered care. PMCH has more than 160 licensed beds, which includes a 15-bed Pediatric Intensive Care Unit, a 17-bed Pediatric Emergency Department, and a 99-bed Level IV Neonatal Intensive Care Unit, providing the highest level of acute care as established by the American Academy of Pediatrics. The hospital offers 24-hour on-site coverage by pediatric hospitalists, intensivists, neonatologists, and board-certified emergency physicians, and provides safe and streamlined critical care transport by ambulance and air. Visit www.getpeytonmanningcare.com.