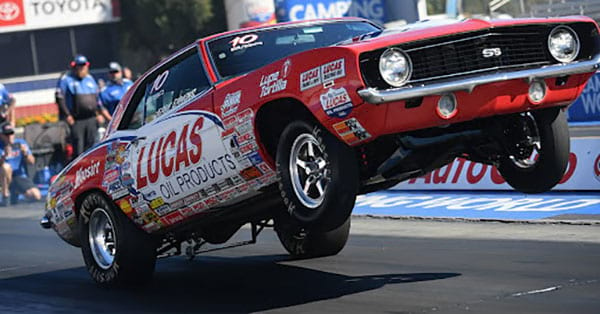 Leading American manufacturer of oil, additives and lubricants heads into 21st year as premier partner of NHRA
INDIANAPOLIS (February 8, 2022) – Lucas Oil Products, the world leader and distributor of high-performance automotive additives and lubricates, reinforces its commitment as the Presenting Sponsor and Official Oil of the NHRA Drag Racing Series, part of the largest and fastest racing organization in the world. Heading into its 21st year of support, Lucas Oil remains a cornerstone sponsor and all-encompassing partner of the National Hot Rod Association.
"Lucas Oil has proudly backed NHRA for over 20 years as the Presenting Sponsor and Official Oil, and we are thrilled to be back at the dragstrip welcoming new teams, established stars, and more fans than ever before," said Brandon Bernstein, Director of Partnership Marketing at Lucas Oil. "These talented drivers and teams demand the best, and as an organization, we are proud to provide them with products that continuously improve their performances and help keep them at the top of their game."
"We are looking forward to another great year of racing in the NHRA Lucas Oil Drag Racing Series," NHRA President Glen Cromwell said. "It's exciting to see our partnership continue with the Lucas family, and they've played such a huge role in supporting this great series. The competition in the NHRA Lucas Oil Drag Racing Series is incredible and filled with outstanding drivers competing at top-notch race tracks across the country."
Many top-selling products from Lucas Oil owe their creation to drag racing. Over the years, Lucas has worked with drivers and teams to develop specialized motor oil, gear oil, and fuel treatments specifically for racing, able to withstand extreme heat and friction while also delivering reliable and superior performance that drivers have come to trust and expect from Lucas Oil.
Whether at the grassroots level or on a national stage, Lucas Oil is committed to the entire motorsports community and supporting the drivers, teams, and organizations that make it all possible.
The 2022 NHRA Lucas Oil Drag Racing Series, where NHRA's top Sportsman competitors contend for national, regional, and divisional championships, includes 44 total events at premier racing facilities across the country. The season begins Feb. 11-12 at South Georgia Motorsports Park in Valdosta, Ga.
For more information or to schedule an executive interview, please contact [email protected].