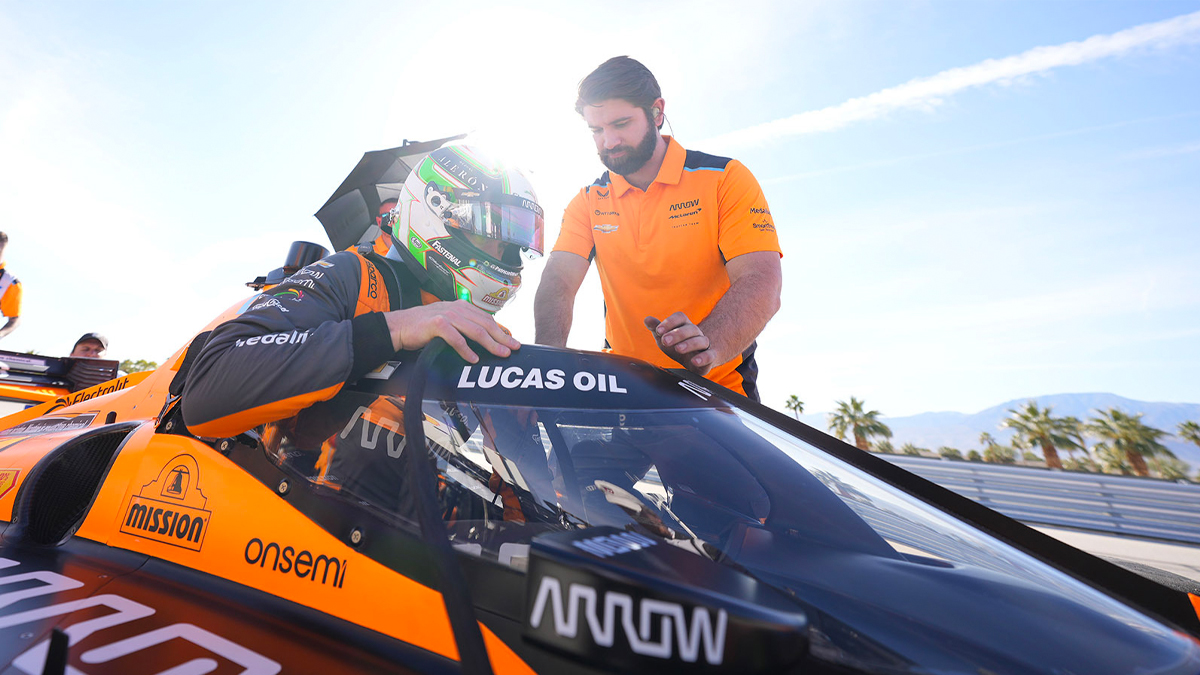 INDIANAPOLIS, IN (March 1, 2023) – McLaren Racing today announced a multi-year extension to its long-standing partnership with Lucas Oil, continuing as an Official Partner of the Arrow McLaren IndyCar Team in the NTT INDYCAR SERIES.
Lucas Oil is an Indianapolis-based manufacturer and distributor of high-performance automotive oils and additives. It has been a partner of the Arrow McLaren team for nearly 20 years, starting its relationship with Sam Schmidt Motorsports in 2004.
With the season opener, 2023 Firestone Grand Prix of St. Petersburg on March 3-5, Lucas Oil branding will continue to be represented on all three Arrow McLaren Chevrolets, and on the driver suits of Pato O'Ward, Felix Rosenqvist and Alexander Rossi for the 2023 NTT INDYCAR SERIES season and beyond.
Matt Dennington, Executive Director, Partnerships and Accelerator, McLaren Racing, said:
"We are thrilled to extend our partnership with Lucas Oil, a long-standing partner that has been with the team for nearly two decades. Through growth and changes, their support has been integral for our team. We look forward to continuing our journey as we scale up Arrow McLaren's presence to a three-car entry into the NTT INDYCAR SERIES."
Sam Schmidt, Team Owner, Arrow McLaren, said:
"Lucas Oil has been a champion of our team for nearly 20 years and through many team changes. The relationship with Lucas Oil has been incredibly important for the team; they've been an Indy 500 partner for us every year since 2004. A partnership of this length is certainly special, and to think back on how it's evolved over the years is a testament to their support and the quality we place on the partnerships we have as a team."
Brandon Bernstein, Director of Partnership Marketing, said:
"For nearly two decades, the Arrow McLaren team has relied on our products to perform at the very highest levels of INDYCAR racing, and it's an honor to extend our partnership as they expand their operation with a third entry for the upcoming season. Lucas Oil's commitment to supplying the very best oils and additives to its race teams is why our relationship with Arrow McLaren has been so successful, and we are thrilled at the opportunity to continue this for the 2023 season and beyond."
For further information, please contact:
Lauren Gaudion, Director, IndyCar Communications, Arrow McLaren [email protected] / +1 681 789 4200

Curtis Nice, Manager, Partner Communications McLaren Racing

[email protected]

/ +44 (0) 7765 742 300
About McLaren Racing
McLaren Racing was founded by racing driver Bruce McLaren 60 years ago in 1963. The team entered its first Formula 1 race in 1966. McLaren has since won 20 Formula 1 world championships, 183 Formula 1 grands prix, the Indianapolis 500 three times, and the Le Mans 24 Hours at its first attempt.
McLaren Racing competes across five racing series. In 2023, the team will compete in the FIA Formula 1 World Championship with McLaren F1 drivers Lando Norris and Oscar Piastri, the NTT INDYCAR SERIES with Arrow McLaren drivers Pato O'Ward, Felix Rosenqvist and Alexander Rossi, the ABB FIA Formula E World Championship with NEOM McLaren Formula E Team drivers René Rast and Jake Hughes, and the Extreme E Championship with NEOM McLaren Extreme E Team drivers Emma Gilmour and Tanner Foust. The team also competes in the F1 Esports Pro Championship as McLaren Shadow, having won the 2022 Constructors' and Drivers' Championships.
McLaren is a champion for sustainability in the sport and a signatory to the UN Sports for Climate Action Commitment. It is committed to achieving net zero by 2040 and fostering a diverse and inclusive culture in the motorsport industry.