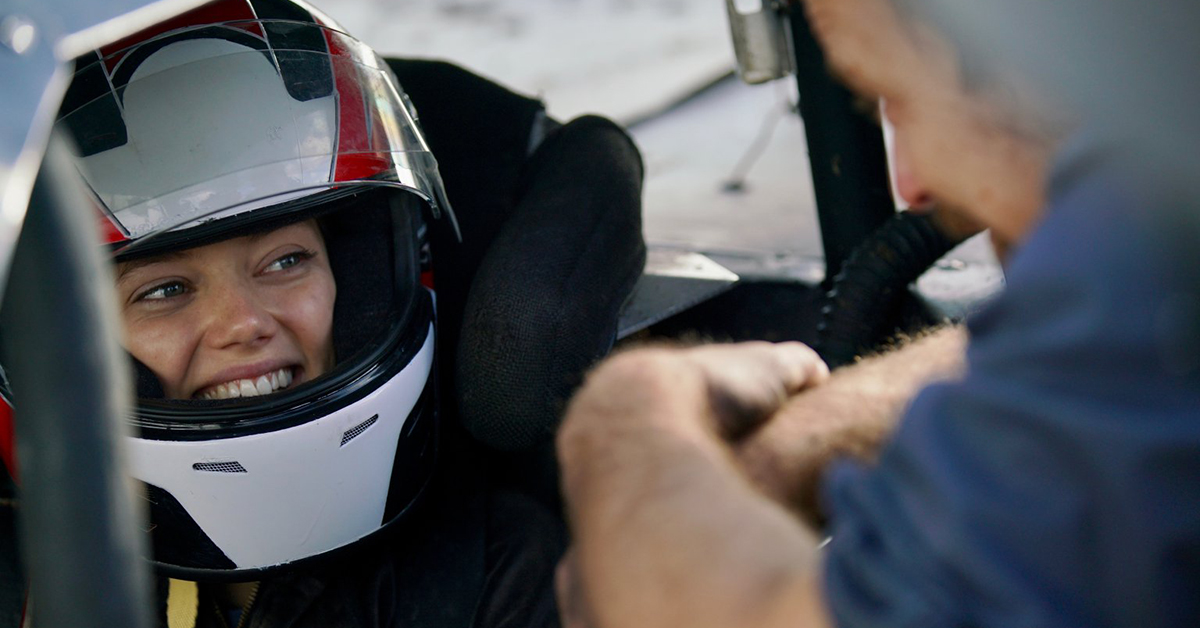 'Lady Driver' tells the tale of a rebellious teenager who found family at the dirt track | Forrest Films photos
This article was written by Larry Edsall and originally appeared in Journal.ClassicCars.com
Most people know Lucas Oil because its name is on the football stadium that serves as home field for the Indianapolis Colts. But if you're on this website, you likely know the company because of its products and its involvement in various forms of motorsport.
But did you know the company also has its name on a historic vintage railway, a cattle company, a golf course, several racing series, a dirt-track speedway with its own drag-boat lake, a television studio with its own cable network (MAV TV), and a movie production effort called Forrest Films, after Forrest Lucas, rather than Lucasfilm, perhaps because someone else already already had used that name for some flicks from a galaxy far, far away.
That to get to this: Four movies by Forrest Films and ESX Entertainment Productions are debuting in May on Netflix, where they are scheduled to play through April 20, 2024. The movies are:
Bennett's War — A member of an Army Ranger motorcycle unit survives an IED explosion and goes home on a medical discharge. He discovers his father, played by country singer Trace Adkins, is about to lose his home, so the Ranger going racing to earn enough money to save the family farm.
Roped — Soap opera star Josh Swickard plays a rodeo cowboy who falls for a town councilman's daughter and becomes torn between her father's beliefs and her love.
The Stand at Paxton County — A U.S. Army veteran comes home and finds the nefarious sheriff harassing her father and his livestock and confronts her own emotions as she wages war against corruption.
Lady Driver — The descriptions of the previous three movies are rewritten from a news release, but I watched Lady Driver and, without giving away too much, can report that a rebellious teenager, played by Grace Van Dien of NBC's The Village, who bolts from Monterey and finds herself, and her uncle, played by Kevin Dillon, formerly of Entourage, in Petaluma, where she also finds her uncle's old dirt-track modified race car.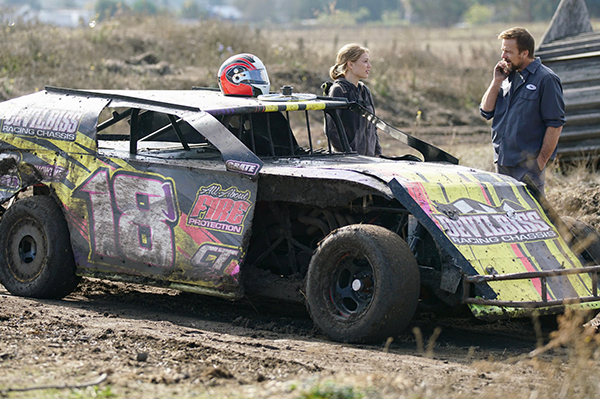 Niece and uncle evaluate her first experience in a short-track modified race car
Without giving away what happens, I will note that you shouldn't stop watching when the credits being to roll. There's a brief epilogue you don't want to miss.
Former trucker Forrest Lucas and his wife Charlotte founded Lucas Oil in 1989. They launched Forrest Films in 2015, as they put it on the studio website, "to bring inspirational, hopeful content to the marketplace." Forrest Films was founded in conjunction with ESX Entertainment, a filmmaking firm launched by Ali Afshar.
Afshar drag raced at Sears Point while in high school, studied medicine at Cal State Northridge, but also started acting, and has a long string of credits in television and movies. He also founded Easy Street Motorsports, rallied Subarus, drag raced and created special signature series of Subarus and Aston Martins.