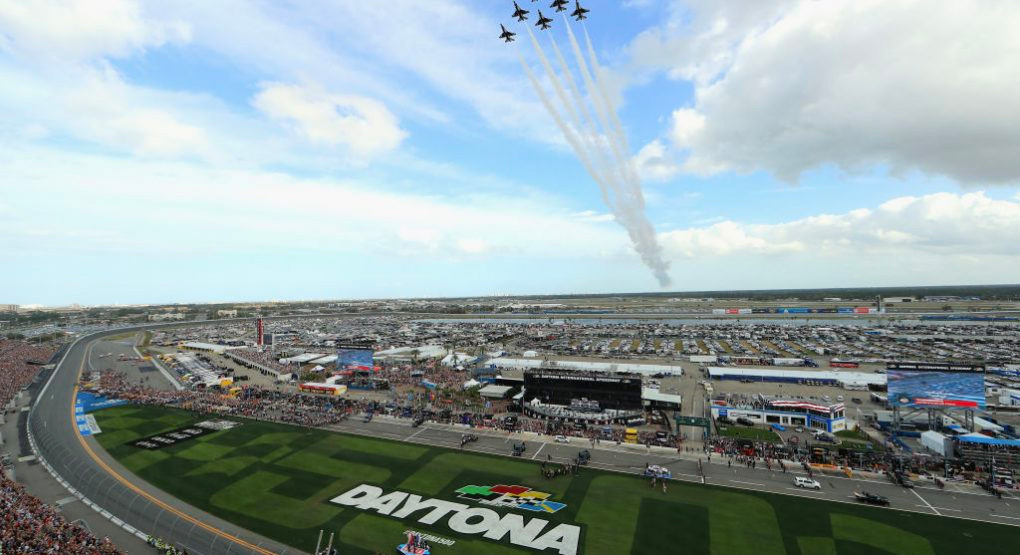 NASCAR Speedweeks will be spread over six days this week at Daytona Int'l Speedway. (Mike Ehrmann/Getty Images photo)
DAYTONA BEACH, Fla. (February 9, 2021) – The middle of February brings with it the start of a new NASCAR season, as well as a condensed schedule this year for Speedweeks at Daytona Int'l Speedway.
Instead of being spread over two weekends, this year's Speedweeks lineup is a six-day run of action that begins Tuesday night with the Busch Clash on Daytona's road course layout and caps off Sunday afternoon with the 63rd edition of The Great American Race, the Daytona 500.
In between, practice and qualifying for all three NASCAR national divisions, as well as the ARCA Menards Series, will be held as a lead up to the first points-paying races for each of the four series.
Pole qualifying to set the front row for the Daytona 500 takes place under the lights Wednesday evening, while the 150-mile Bluegreen Vacations Duels at Daytona – the traditional qualifying races for the 500 – return in their traditional Thursday night primetime slot.
NASCAR Camping World Truck Series teams hit the Daytona high banks Friday night for their 250-mile season opener, while Saturday brings with it a doubleheader race day, with the ARCA Menards Series and NASCAR Xfinity Series both racing throughout the afternoon.
The headliner of the week rolls off Sunday at 2:30 p.m. ET, when the 63rd Daytona 500 goes green live on FOX.
Below is the full schedule for Daytona Speedweeks. Television networks are noted where applicable.
2021 Speedweeks Schedule (all times ET)
Tuesday, Feb. 9
7 p.m. – Busch Clash (FS1)
Wednesday, Feb. 10
12 p.m. – Daytona 500 Practice (FS1)
7 p.m. – Daytona 500 Pole Qualifying (FS1)
Thursday, Feb. 11
5:30 p.m. – Truck Series Practice (FS1)
7 p.m. – Cup Series Duels at Daytona (FS1)
Friday, Feb. 12
1 p.m. – ARCA Practice (No TV)
3 p.m. – Truck Series Qualifying (FS1)
4:30 p.m. – Xfinity Series Practice (FS1)
7:30 p.m. – Truck Series NextEra Energy Resources 250 (FS1)
Saturday, Feb. 13
8:30 a.m. – ARCA Qualifying (No TV)
9:30 a.m. – Cup Series Practice (FS2)
10:30 a.m. – Xfinity Series Qualifying (FS2/FS1)
12 p.m. – Cup Series Happy Hour (FS1)
1:30 p.m. – ARCA Lucas Oil 200 (FS1)
5 p.m. – Xfinity Series Beef. It's What's For Dinner. 300 (FS1)
Sunday, Feb. 14
2:30 p.m. – Cup Series 63rd Daytona 500 (FOX)
---
Original article by Jacob Seelman, SPEEDSPORT.com