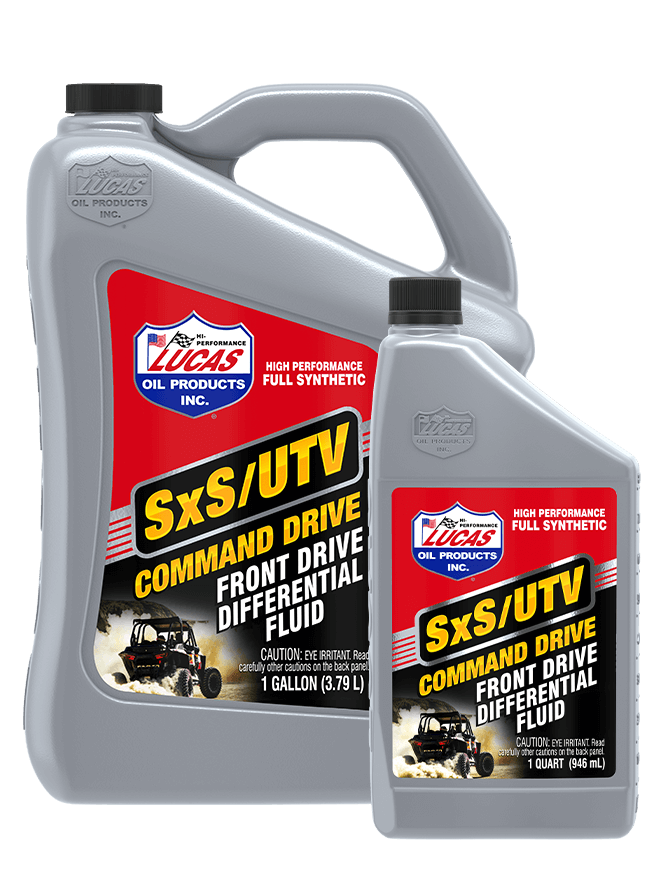 Synthetic SxS Command Drive Front Drive Differential Fluid
Lucas SxS Command Drive Fluid is blended from premium synthetic base oils only (API Groups III & V), combined with shear stable synthetic polymers, a high-quality additive package that includes anti-wear, anti-oxidants, friction modifiers and corrosion inhibitors to produce a truly superior fluid for the front differential of Polaris vehicles, including ACE, Sportsman, Ranger and RZR* and may be used safely as a substitute for Polaris Demand Drive fluid. Command Drive contains a friction modifier for smooth and rapid engagement of the front differential.
Lucas SxS Command Drive Front Differential Fluid will not permanently shear thin, ensuring that viscosity remains constant over the life of the fluid. Lucas Command Drive front Differential Fluid provides superior anti-wear protection and reduces the effects of shock loading. It will hold-up under heat and stress.
*Polaris, ACE, Sportsman, Ranger and RZR are registered trademarks of Polaris, Inc. Lucas Oil has no endorsement or affiliation with Polaris Inc.
Primary Application
Hub and centralized Hillard clutches
Key Benefits
Protects internal components in all operating conditions and temperatures
Ensures smooth and rapid engagement and disengagement of front differential
Friction modified - minimizes friction and wear
Provides added lubricity, oxidation and corrosion protection for longer fluid life
Minimizes ADC clutch chatter
Developed specifically for Polaris* ATV/SXS front differentials
All season extreme protection formula
Packaging
| | | |
| --- | --- | --- |
| #11220 | 1 Quart (Case of 6) | 13 lbs |
| #11221 | 1 Gallon (Case of 4) | 32 lbs |
| #11222 | 5 Gallon Pail (1 Pail) | 40 lbs |
| #18051 | 6 Gallon BIB (1 BIB) | 46 lbs |
| #11223 | 55 Gallon Drum | 440 lbs |