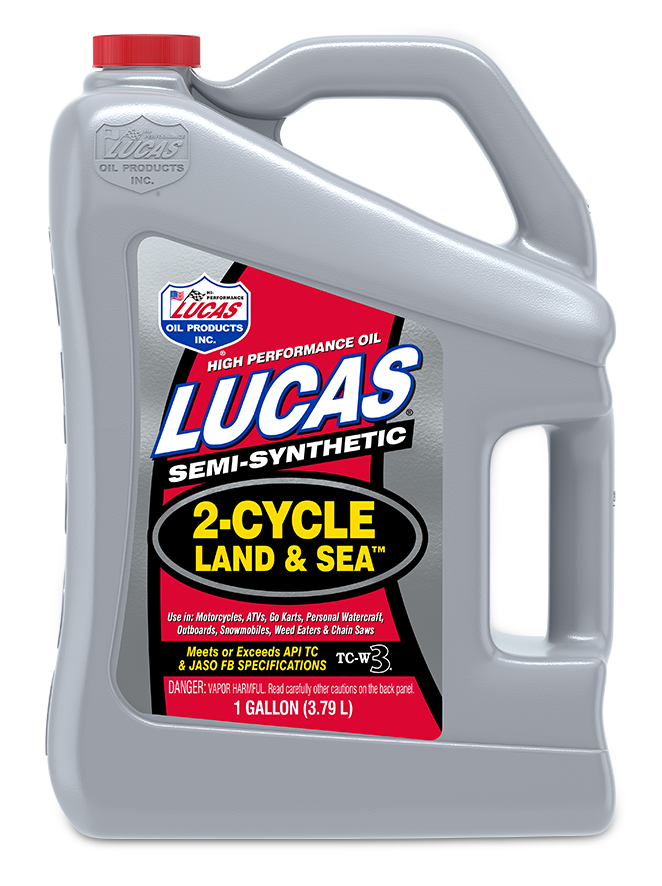 Semi-Synthetic TC-W3 2-Cycle Land & Sea Oil
Lucas High Performance Semi-Synthetic 2-Cycle Land & Sea Oil TC-W3 has been specifically developed for Motorcycles, ATVs, Go Karts, Personal Watercraft, Outboards, Snowmobiles, Weed Eaters and Chain Saws. Mix ratio is 50:1.
A "TRUE" Smokeless Formula, Lucas 2-Cycle Land & Sea Oil TC-W3 is specially formulated with high quality base oils fortified with a Lucas ashless detergent inhibitor package to minimize spark plug fouling, pre-ignition, ring sticking and combustion chamber deposits. For more specific information on each racing oil please review our product specification sheets.
Primary Application
2-Stroke Outboards
2-Stroke Personal Water Craft
Key Benefits
Surpasses Mercury, Evinrude and Johnson Motors requirements
Expect longer ring life, less fuel consumption and no filter clogging
Excellent rust protection
Prevents piston and cylinder scuffing
Meets or exceeds industry performance requirements
Packaging
| | | |
| --- | --- | --- |
| #10467 | 1 Quart (Case of 6) | 13 lbs |
| #10557 | 1 Gallon (Case of 4) | 33 lbs |
| #10470 | 55 Gallon Drum | 440 lbs |