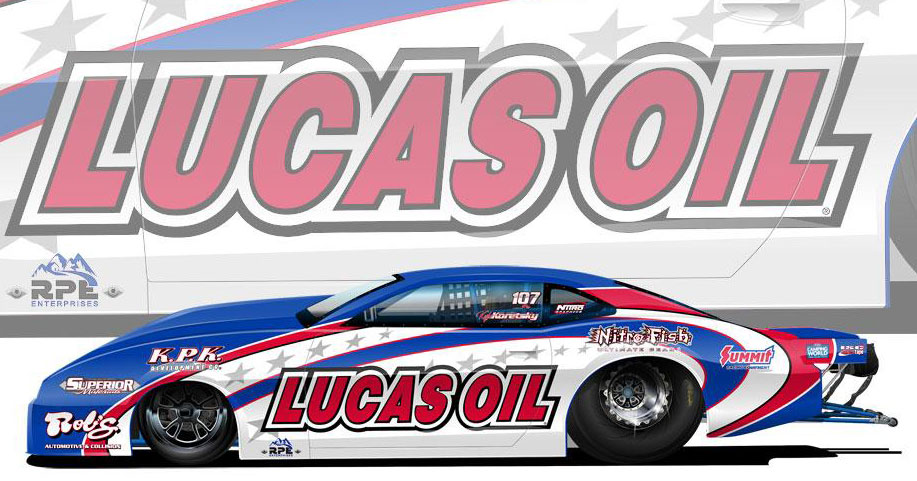 (February 5, 2021) After a successful rookie season that included a final-round appearance at the season-ending Dodge NHRA Finals in Las Vegas, Kyle Koretsky will carry the colors of Lucas Oil Products on his KB Racing Camaro.
Second-generation Pro Stock driver Kyle Koretsky, who was one of several standout candidates for the 2020 NHRA rookie of the year award, will return for his sophomore season in the class with the backing of Lucas Oil Products. Koretsky's KB Racing-powered Camaro is scheduled to carry the Lucas Oil banner for all 18 NHRA Camping World Drag Racing Series events that feature the Pro Stock class in 2021.
"In our racing program, we've always used Lucas Oil Products, and it is no different for our equipment and trucks with KPK Development," said Koretsky. "I'm really excited about representing Lucas Oil this season on track and our business-to-business relationship off track."
The son of former Pro Stock and Top Fuel driver, Kenny Koretsky, Kyle made his Professional debut last season after stints in Super Comp, Comp eliminator, and E.T. bracket racing. He quickly adapted to a 6.5-second Pro Stock car and finished the season with seven round-wins, including a final-round appearance at the season-ending Dodge NHRA Finals in Las Vegas. He just missed a spot in the Top 10 with an 11th-place finish. Koretsky becomes the latest in a long line of successful NHRA Pro and Sportsman racers to carry the familiar red, white, and blue colors of Lucas Oil Products.
"Lucas Oil is thrilled to be aligned with Kyle and the whole Koretsky Pro Stock Team," said Brandon Bernstein, director of Partnership Marketing. "Koretsky's professionalism on and off the racetrack lines up perfectly with Lucas Oil Products. We are excited for the NHRA season to start and hopefully see some wins."
Koretsky plans to test his Chevy Camaro in Florida before the first race of the season, the Amalie Motor Oil NHRA Gatornationals at Gainesville Raceway, March 12-14, 2021.
Original article by nhra.com