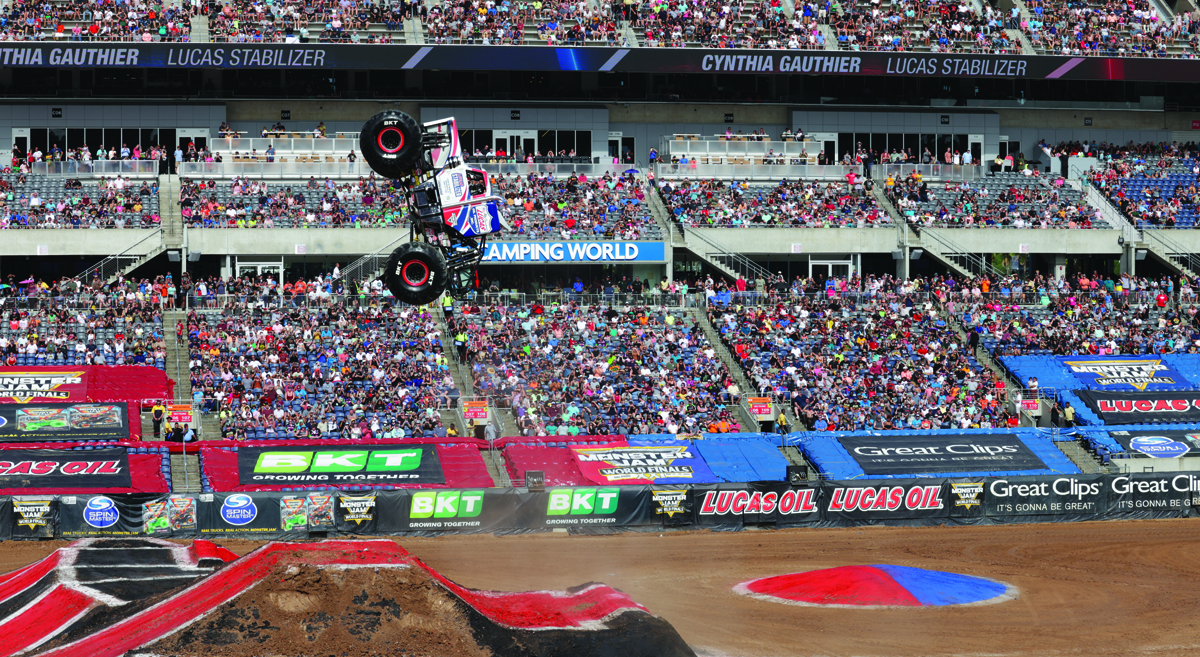 INDIANAPOLIS (June 29, 2023) – Lucas Oil Products, the world leader and distributor of high-performance automotive additives and lubricants, is proud to announce its sponsorship of the highly entertaining, gravity-defying High Jump Competition as part of the Monster Jam World Finals in Nashville, Tennessee, July 1.
As a testament to the exceptional quality and performance of Lucas Oil products, all Monster Jam trucks rely on Lucas' cutting-edge lubricants and additives to maximize their performance and ensure unparalleled durability in the intense world of Monster Jam competition. With a strong commitment to innovation and reliability, Lucas Oil has long been the trusted choice of elite drivers and teams in motorsports.
Cynthia Gauthier, the driver of the fan-favorite Lucas Oil Stabilizer, has secured her spot as a High Jump Competitor as a result of several top performances this season. "I am thrilled to be back in the World Finals competing in the High Jump contest. I've had more time to really break in the truck, adapt my driving, put her through her paces and I'm ready to win," said Gauthier.
Beyond its commitment to delivering high-performance lubricants and additives to the Monster Jam fleet, Lucas Oil is dedicated to fostering education in mechanical and automotive engineering, as well as high-performance motorsports technology. In partnership with Feld Entertainment and the University of Northwestern Ohio (UNOH), Lucas Oil supports unique opportunities for students to immerse themselves in the world of Monster Jam and gain hands-on learning experience.
"Lucas Oil takes immense pride in supporting these young talents and fostering their growth within motorsports," said Terina Perry, Director of Event Marketing at Lucas Oil. "We believe in investing in the next generation of technicians and offering them the tools they need to excel in their passions, and it's heart-warming to witness their development and see their skills advance."
As a result of these educational opportunities, dozens of UNOH students have transitioned into full-time positions as technicians with Monster Jam, working behind the scenes to ensure the trucks are in peak condition and ready to deliver jaw-dropping performances.
The Monster Jam World Finals will be held for the first time at Nissan Stadium in Nashville on July 1 starting with the 2-Wheel Skills and High Jump Competition  at 1 p.m. ET. Highlighting the event is a world record-setting attempt – Colton Eichelberger will pilot ThunderROARus across the stadium jumping nine trucks and traveling over 140 feet. If successful, he will set a new World Record.
In addition to watching Monster Jam drivers and trucks compete in the World Finals, fans can now purchase the official 1:64 die-cast of the Lucas Stabilizer Monster Jam truck directly from the Monster Jam Superstore and other authorized retailers.
About Monster Jam
Unexpected, unscripted and unforgettable, Monster Jam® features world-class athletes competing for championships on perfectly engineered dirt tracks that push these ever-evolving, state-of-the-art trucks to the limit. Beyond the 350 global live events each year, the Monster Jam brand extends off the track into the home through products, content and merchandise that keeps the fun alive year-round. For more information, visit MonsterJam.com.
About Feld Entertainment, Inc.
Feld Entertainment® is the worldwide leader in producing and presenting live family entertainment experiences that bring people together and uplift the human spirit. Properties include Monster Jam®, Monster Energy Supercross, Disney On Ice,, Marvel Universe LIVE!, Sesame Street Live!, and Jurassic World Live Tour. Across the brand portfolio, Feld Entertainment has entertained millions of families in more than 75 countries and on six continents. Visit feldentertainment.com for more information.