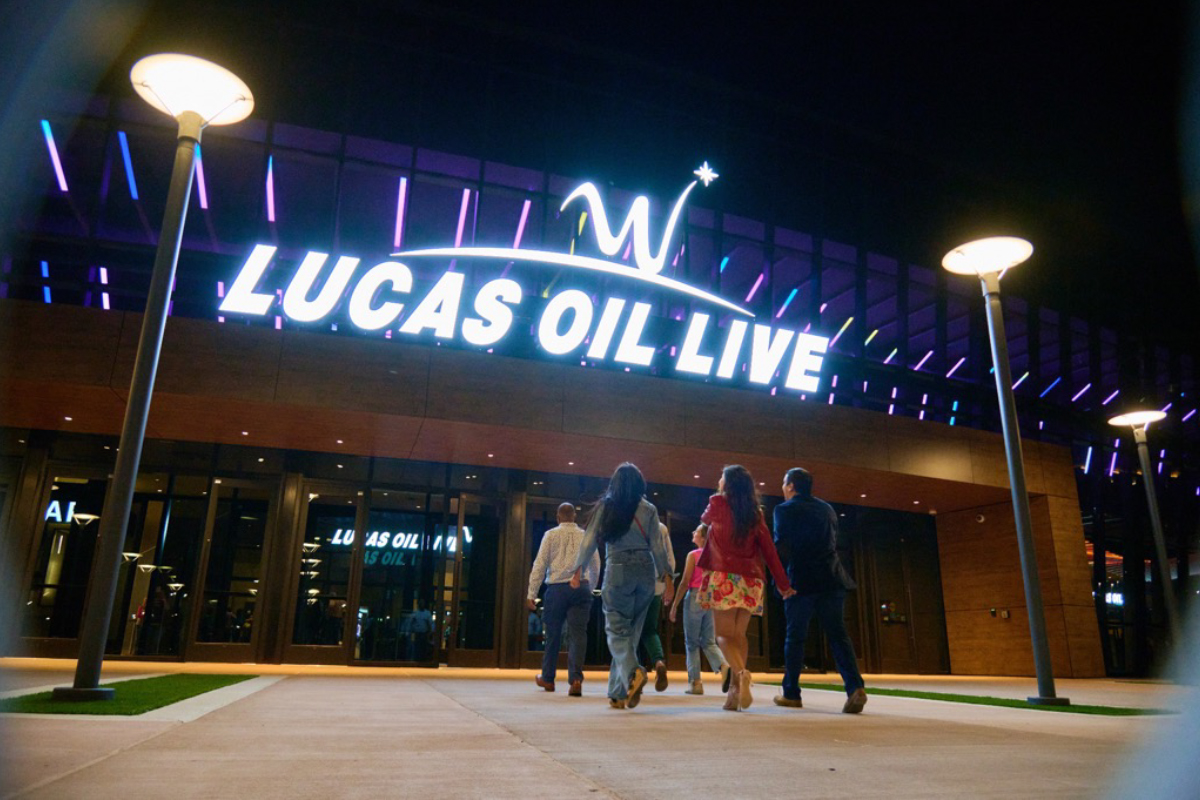 THACKERVILLE, Okla. (Nov. 7, 2023) – Lucas Oil and WinStar World Casino and Resort celebrate the opening of Lucas Oil Live, the highly anticipated entertainment venue with a 6,500-seat amphitheater-style arena. The arena is part of a versatile 250,000-square-foot facility that serves as a multi-dimensional entertainment hub capable of hosting a wide array of audiences and events. 
The newly opened Lucas Oil Live kicked off with shows from popular artists like Ringo Starr, Miranda Lambert, Rod Stewart and is set to feature upcoming performances by Leon Bridges, Whiskey Myers, Katt Williams and more. An event schedule and ticket information can be found on WinStar.com and on WinStar's social channels.
For Lucas Oil, this partnership signals a strong addition to the marketing strategy, building on its automotive and sports marketing efforts to connect with a broader audience. With naming rights and brand touchpoints throughout the venue, Lucas Oil has a remarkable opportunity to highlight its brand to an audience with more diverse interests.
"Lucas Oil Live represents a strategic leap forward in our brand's evolution," said Melissa Wonser, Vice President of Marketing. "By aligning our name with a dynamic entertainment venue, we're broadening our reach and showcasing the versatility of Lucas Oil Products. The partnership positions us to connect with audiences beyond automotive enthusiasts, reinforcing our commitment to excellence not just in performance racing and heavy-duty hauling but reliable car care for everyone."
The Lucas Oil Live venue enhances the resort experience for patrons and music fans alike, with cutting-edge technical capabilities that will attract the industry's most popular entertainers and offer extraordinary exposure potential for a brand like Lucas Oil. What's more, it's not just about the music; the venue is an experience unto itself, complete with a host of amenities that elevate the live entertainment experience.
Lucas Oil Live's spectacular concourse connects seamlessly with WinStar's newly opened, 304-room Spa Tower Hotel, offering guests the ultimate convenience and luxury. The venue also introduces Session House Gastropub, a new culinary delight, and two bars dedicated to enhancing the concert experience. Multiple concessions venues and a flexible VIP lounge provide added convenience for patrons.
For more information about Lucas Oil Live as well as an upcoming schedule of performances and events, please visit www.WinStar.com.
About WinStar World Casino and Resort:
With more games than any other casino in the world, WinStar World Casino and Resort offers unrivaled gaming action with its nearly 10,500 electronic games and over 100 table games found throughout its expansive gaming floor. In addition to its gaming, the casino-resort includes the luxurious WinStar World Casino Hotel with over 1,700 rooms, WinStar Golf Club with its two championship, 18-hole golf courses and WinStar Golf Academy, the WinStar Convention Center and over 20 restaurants open daily. Located on the Texas/Oklahoma state line along Interstate 35, WinStar World Casino and Resort presents unmatched gaming action 24 hours a day, 7 days a week. Be sure to visit WinStar.com for the most updated information before your next trip to WinStar World Casino and Resort.