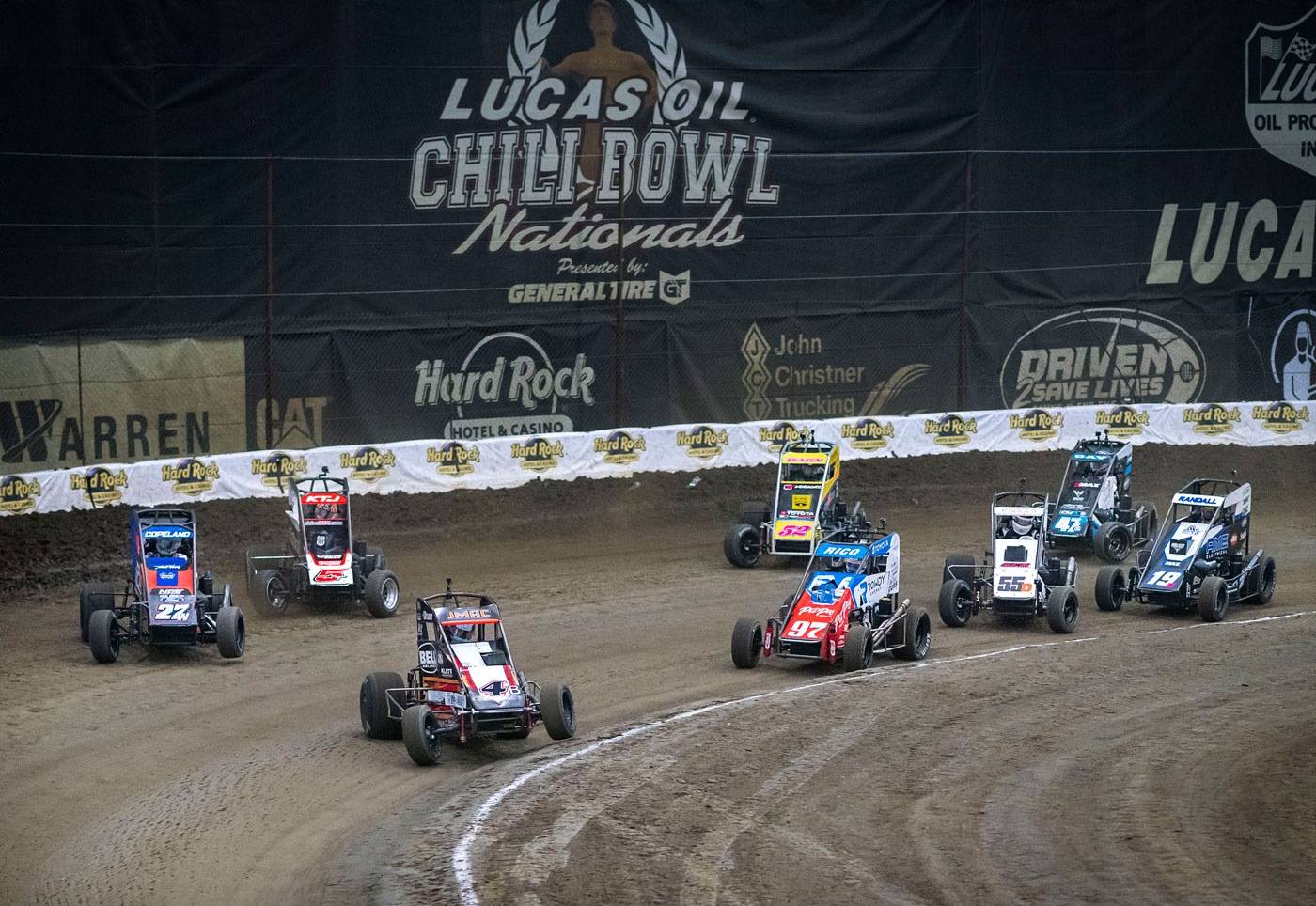 Photo credit Dave Olsen
Top drivers from all classes of motorsports head to Tulsa, Oklahoma, to compete in the Lucas Oil Chili Bowl Nationals presented by General Tire
Known as "The Super Bowl of Midget Racing" teams vying for open-wheel racing glory and the famed "Golden Driller" trophy
Fans can watch the championship event live on MAVTV Motorsports Network and MAVTV on FloRacing on Saturday, January 14 at 10:30 p.m. EST.
INDIANAPOLIS (January 10, 2023) – Lucas Oil Products rings in the new year by celebrating its 15th annual title sponsorship of the Lucas Oil Chili Bowl Nationals Presented by General Tire, at the Tulsa Expo Raceway located inside the SageNet Center in Tulsa, Oklahoma. The beloved quarter-mile clay track contest, now in its 37th year, attracts elite drivers from stock car, open wheel, late models and drag racing, making the Chili Bowl a rare single event where fans can see their favorite athletes from across motorsports compete on the same track in an action-packed, exceptional face-off. The annual championship event will air live on MAVTV Motorsports Network and stream live on MAVTV on FloRacing on Saturday, January 14 at 10:30 p.m. EST with an encore presentation airing on MAVTV Motorsports Network on Sunday, January 15.
"The coveted Golden Driller trophy represents so much of what we love about racing," said Scott McLemore, Director of MAVTV Programming and Production. "Hoisting up that trophy as the Chili Bowl champion has been the start of many legendary racing careers, and we are incredibly fortunate to be able to share those stories with fans through our title sponsorship as well as the MAVTV Motorsports Network and our live streaming partner FloRacing. It's a racing event like no other, elite drivers versus upstart amateurs, and an exceptional kick-off to the 2023 racing season."
Exceeding 300 entries for the ninth consecutive year, this year's Chili Bowl Nationals is expected to be another record setting event. Drivers include 46 former A-Feature starters, 62 Chili Bowl Rookies and a growing number of international competitors including Michael Pickens, the nine-time New Zealand Midget Champion.
"The Chili Bowl is one of my favorite racing events of the year – it's thrilling to see newcomers and legends from across motorsports compete in the nation's heartland," said Brandon Bernstein, Director of Partnership Marketing at Lucas Oil. "Not only does the Chili Bowl give motorsports fans some much-needed wintertime racing excitement, but it also sets the tone for the racing season to come. Every team wants to kick off the year with the Golden Driller in the trophy case."
Fans not able to attend the Lucas Oil Chili Bowl Nationals presented by General Tire can watch every lap live plus behind the scenes coverage on MAVTV on FloRacing. The broadcast starts January 9 with coverage of qualifying and runs until the championship events on January 14. MAVTV Motorsports Network will air a special encore presentation of the race on January 15. Local air times available at MAVTV.com.
For more information or to schedule an executive interview with Lucas Oil, please contact [email protected] or call 310-374-6177.