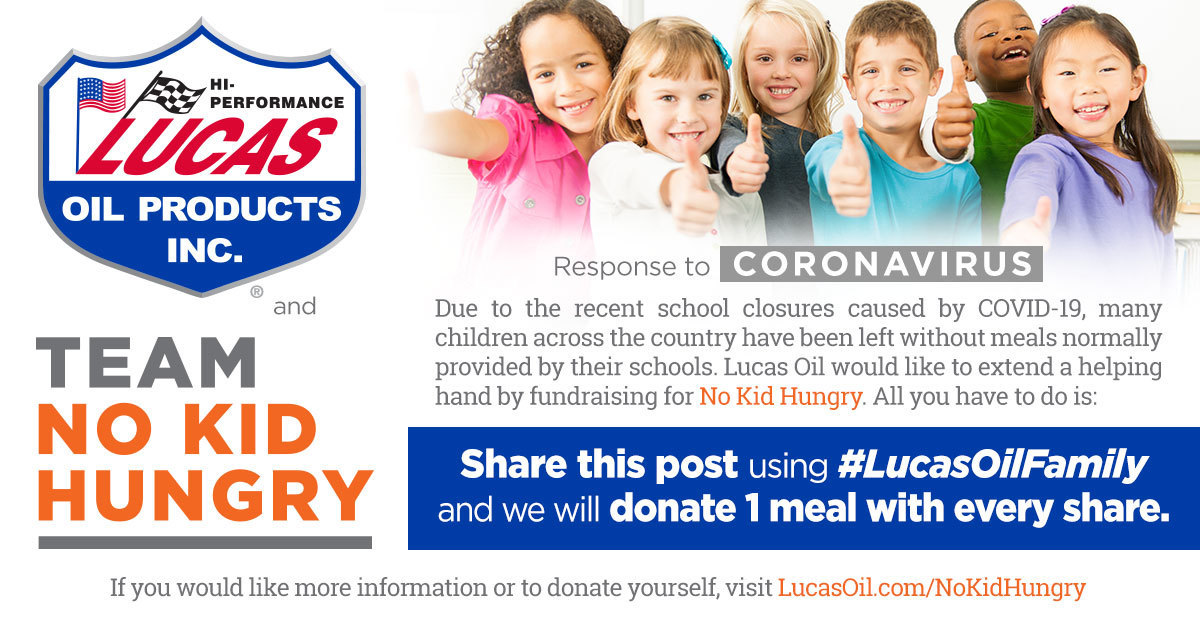 CORONA, CA (March 31, 2020) – Lucas Oil Products, the American-based manufacturer and distributor of lubricants and additives, is pledging to donate 100,000 meals through the No Kid Hungry organization to help struggling families feed their children during the COVID-19 coronavirus pandemic through a new social media campaign.
As schools shut their doors in response to COVID-19, kids are left without high-quality meals normally provided by their schools. In response, Lucas Oil Products is launching a social media campaign asking the public to share the official campaign post found on Lucas Oil's Facebook, Twitter and Instagram accounts along with the hashtag #LucasOilFamily.
Beginning Monday, March 30th, Lucas Oil will donate one meal to the No Kid Hungry organization for each person that shares the official campaign postand #LucasOilFamily over social media.
"We at Lucas Oil are always thinking of families first and with recent school closures forcing parents to take on the added financial stress that comes with supplying meals for their kids, we knew helping those families with meals is what we had to do," said Forrest Lucas, President and CEO Lucas Oil Products. "We also wanted to run this campaign through social media so everyone staying indoors has the opportunity to be a part of this by sharing it with others and to come away with a feeling of pride for having done something positive during these unprecedented times."
No Kid Hungry is a nonprofit organization committed to ending childhood hunger in America. The organization has helped release $1 million in grantsfor schools to continue meal programs and provided millions of families with meals during difficult times. By participating in the Lucas Oil campaign, the public can help provide healthy meals to these children across the country.
Lucas Oil's campaign will run until 100,000 meals are donated or the coronavirus crisis is over, whichever comes first. Direct donations to the No Kid Hungry nonprofit can also be made through the official campaign link here. For every $10 raised, 100 meals are provided to a child in need.