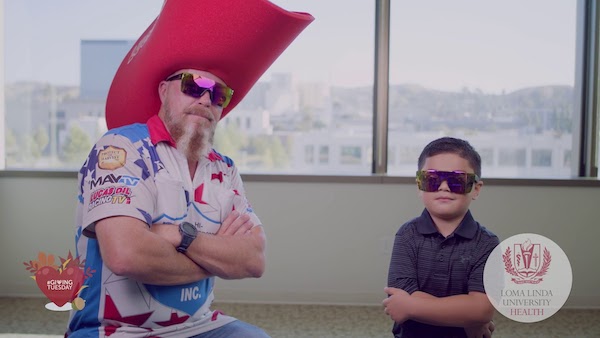 Greg Cozzo (left) and LLUCH patient Emmanuel (right)
CORONA, Calif. (November 26, 2019) – Lucas Oil Products Inc., the American-based manufacturer and distributor of additives and lubricants, is helping Loma Linda University Children's Hospital (LLUCH) raise awareness for the annual Giving Tuesday global fundraiser. The fundraiser takes place on the National Day of Giving (December 3rd), and is centered around encouraging people to give back to important issues that better one's local community.
Having grown up in the Loma Linda area, Lucas Oil employee Greg Cozzo is familiar with the quality health care LLUCH provides the community. Greg, a member of the Activation and Promotions team, often finds himself back at LLUCH to coordinate hospital visits with Lucas Off Road Drivers and the hospital's younger patients. Thanks to these hospital visits, Greg was able to meet Emmanuel.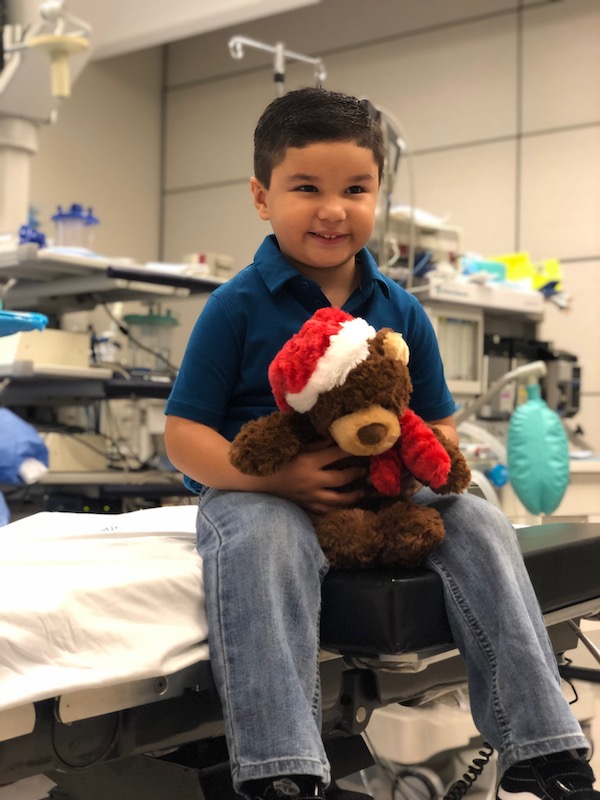 "Growing up in the shadows of Loma Linda Children's Hospital, I spent a few days here in my youth with some bumps and bruises, and to work for a company like Lucas which actively promotes being involved in our communities, it was a real honor to be a part of sharing their message for Giving Tuesday," said Greg Cozzo, Activations and Promotions, Lucas Oil. "Especially getting to spend time with little Emmanuel, who is such an inspiring young man!"
Emmanuel was brought to LLUCH after it was discovered he suffered from a condition known as Meconium Asphyxia which causes respiratory distress in infants and can be fatal if not treated immediately. His parents tried for 14 years to have a child only to see their firstborn get airlifted to LLUCH because he was born with a severe condition. Emmanuel's stay at the hospital was hard, both on his parents and himself, but the amazing team of nurses and doctors worked rigorously for 41 days and 40 nights in the NICU to bring Emmanuel back to health.
"Giving back to local communities has always been a priority for us at Lucas Oil Products," said Tom Fredrickson, Lucas Oil Chief Operating Officer. "Health care centers like Loma Linda University Children's Hospital go above and beyond for their patients and the community. That's why helping raise awareness for a fundraiser like Giving Tuesday is important to us. If we can help just one hospital generate enough support to provide quality health care to locals, we will have done our job."
The Global Giving Tuesday campaign proves that when everyone works together, a single day can make a world of a difference. Lucas Oil encourages everyone to take action on December 3rd and give back to important issues that help better our local communities. Those looking to give a financial contribution to LLUCH can do so as soon as right now by visiting the LLUCH website. Other donations including clothing and volunteering to assist with LLUCH's annual holiday toy drive and Santa Workshop are also encouraged. Each donation supports a share of world-class treatment, attentive patient care, scholarships and research equipment. More importantly, you are contributing to saving lives – just like Emmanuel's.