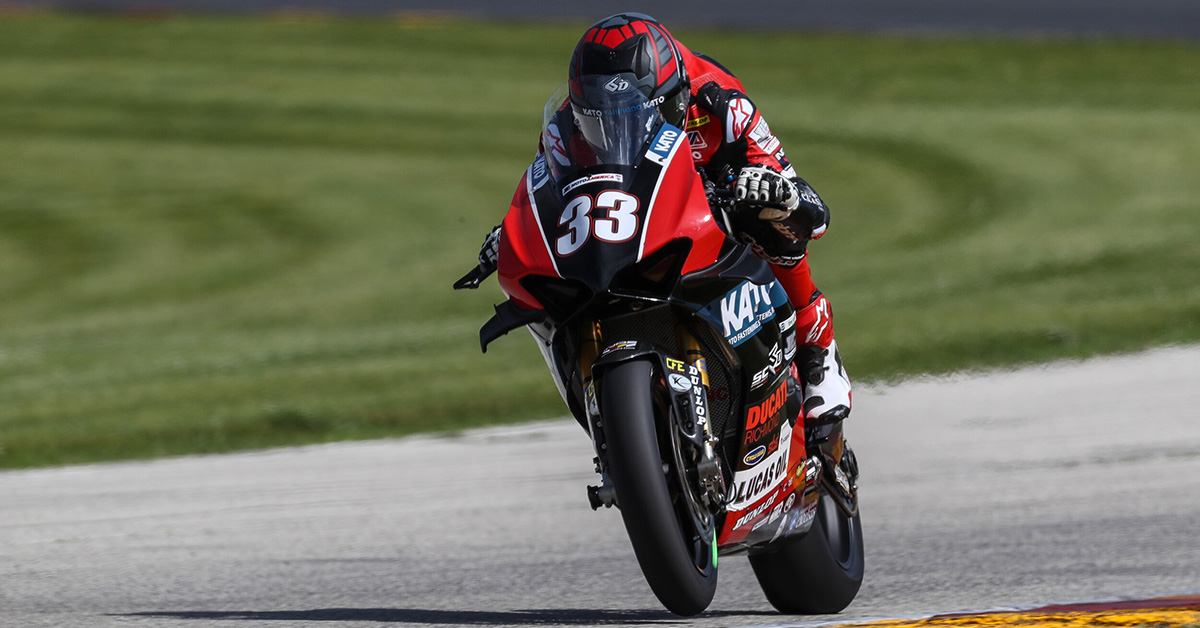 EKLHART LAKE, Wis. (June 30, 2020) – Kyle Wyman earned two podium results this past weekend at Road America, for round two of the MotoAmerica Superbike series. Wyman placed 3rd in both Superbike races aboard his KATO Fastening Systems/KWR Ducati Panigale V4 R.
The KWR team went into the weekend with a fresh start, new settings on the bike and a promising outlook for a return to the Wisconsin circuit. Wyman, however, started the weekend on the wrong foot by crashing his Ducati Superbike in turn 6, and missing out on an entire valuable session of data gathering and tasking the KWR crew with a full rebuild. The team made only 6 total laps on Friday.
"I still don't really know what happened," Wyman said. "I had done my first flying lap, and was just working into the new tires and getting up to speed, and I just tucked the front. It was such a small mistake, but the bike took a weird bounce when it hit the grass and just exploded parts everywhere. I couldn't believe it."
The KWR crew was able to get the bike back out in the afternoon, but mostly as a shakedown. The team and Wyman started fresh on Saturday morning, for 'take two' on the weekend. With new settings to try that came in with help from Ducati Corse and their WorldSBK team, the morning free practice laps were crucial for Kyle to get a feel for the bike in its latest form. He would end up 6th fastest in that session but with valuable data and feedback for the crew. In Superpole, Wyman put together a good lap and finally broke into the "12's" by posting a time of 2:12.863 which was good enough for 6th position, and a second-row start on the grid.
Race One
Wyman got off to a tremendous start in race one, and found himself passing 4 riders before turn one, tipping into the first corner in 2nd place. He lost two positions in the opening laps and settled into 4th position, right behind 2017 champion Toni Elias. Wyman was able to build a gap to the riders behind and settle into a race-long battle with Elias, stalking him until a last lap move.
Wyman dove up the inside of Elias in the chicane area, passing the Spanish rider for the final spot on the podium. Elias was able to make a counter move into 'Canada Corner' just moments later, and would hold the position through the final sector to put Wyman fourth across the line.
Toni's pass, however, was in a corner where at the time there was a yellow flag condition, due to another rider crashing on the previous lap. With MotoAmerica rules prohibiting a pass during a waving yellow flag, Elias was docked a position, promoting Wyman to his first podium placing since the 2017 season. Wyman waited 1,022 days between his first MotoAmerica Superbike podium and his second.
"It feels amazing to finally get this podium and put the Ducati Panigale V4 R up front where it belongs," Wyman said. "I had a great race going, and Toni was riding well, I'm just glad I was able to put a move on him in the last lap and force him in a position to have to pass me back. I'll take this podium–I feel I've earned it and I'm happy to pay back the KATO Fastening Systems, KWR crew with a result."
Wyman would not have to wait another 1,022 days for a third Superbike podium.
Race Two
In race two, Wyman got off to another strong start and was in 6th place early on, but had to fight his way through the pack in the first few laps to gain positions back. Wyman passed fellow competitor Mathew Scholtz on lap one, and followed it up on lap three with a brave move into Canada Corner on Toni Elias once again. Wyman found himself in 4th position with the top-three up the road, and Elias and Scholtz trailing close behind.
Shortly after, disaster struck for race leader and championship points leader Cameron Beaubier, who crashed in turn one and promoted everyone else in the field up one spot, putting Wyman back in 3rd place.
Wyman would hold off the duo of Elias and Scholtz for the entirety of the race, but not without drama behind him and a close fight to the end. Scholtz made an aggressive pass on Elias mid-way through the race that caused Elias to crash, and Wyman was able to pull just enough of a gap to run the second half of the race unchallenged. Wyman beat out Scholtz for the final step on the podium by a gap of 1.552 seconds.
"I really wanted to duplicate my start from race one, but that was going to be a tall order," Wyman said. "Fortunately I still gained a couple spots before turn one and was able to put myself in the lead fight early on. I got past Mat and Toni pretty quickly and just put my head down and tried not to make any mistakes. I was able to stay consistent and stay just far enough ahead where neither of them could make a move, and I guess the two of them got together at some point. I just kept my head down and focused through to the end for another podium. I couldn't be happier."
Wyman now sits 4th in series standings, after scoring 5th, 4th, 3rd and 3rd in the first four races of 2020. Wyman is only two points out of 3rd place and 19 points out of the championship lead.
"We came into this season with expectations of fighting for the podium sometime mid season, and grabbing a couple when the opportunity presented itself," Wyman added. "This weekend was a massive step in all aspects of my team. My riding took a big step, as well as my confidence to race with these guys. My crew worked tremendously hard and the bike has improved significantly since the first round already. From where we were on Friday, with the crash and making so few laps, it really shows the strength of the crew I have around me in 2020."
"It bodes well for the rest of the season, but mostly I need to enjoy this now knowing I rewarded the team and our sponsor KATO Fastening Systems with a couple of podiums. I'm going to remember this weekend for a very long time."
Visit www.kylewyman.com for more information on KWR as well as news and updates.