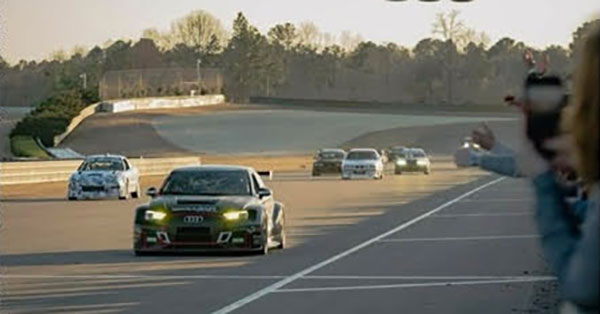 Birmingham, Alabama, March 11, 2021 – Announced today: Starting from the 26th position, the Hammer-Motorsports #01 car takes the Overall Win in a 67-car field.
In their first race of the year, the Hammer-Motorsports Team would need a "perfect" performance to win the World Racing League event. And it delivered.
Team Owners Tim and Jeff Myers made daring strategy calls before and during the race, and the gambles hit the jackpot. With the #02 car out for the race, the three car team now became a two car team. A complete overhaul of the driver lineup was made. Veteran team drivers Michael McCarthy and Topher Everett would be paired with Alex Mayer and Jason Reichert. While both Mayer and Reichert have numerous open-wheel championships and both have won the SCCA Runoffs, this was their first time in the Audi RS3 LMS TCR car, and first race with HammerMotorsports. Myers would also tap Tim Reichert in his second race with the team as Crew Chief. Myers would "roll the dice" with the new faces on the team.
Michael McCarthy would start the race, and immediately started picking cars off, systematically moving up the very competitive GTO field. During his 1 hour and 35 minute stint, McCarthy moved the team from P26 to PS. An amazing feat, as he also set the fastest time for the team at 1:36.927, giving the Hammer-Motorsports Audi a chance for a win.
Alex Mayer would then take over the Audi, and was instructed to keep pushing to the front. Mayer drove flawlessly in his first time at Barber Motorsports Park, and his first time in the Audi, moving up the order another 2 positions. Alex was also tasked to drive a double stint of 2 hours, 35 minutes, only pitting under yellow flag conditions for fuel.
It was now team veteran Topher Everett's turn at the wheel. Everett would be asked to drive the longest stint of the race, 3 hours and 15 minutes. By leaving Everett in the car and taking pit stops only to top off the fuel during yellow flags, the Hammer-Motorsports #01 car moved up to 2nd place. Lightning fast pit stops by the HammerMotorsports crew kept the team in contention.
Tim Myers then made the riskiest call of the day, and put Jason Reichert in the car to get the Win. Reichert is his youngest driver at 21, and had limited time to learn the Audi the day before. His task was a simple, but tall one- run down the BMW M4 GT 4, overtake, then hold off one of the top teams for the win. Reichert delivered, setting the second fastest team time of the day, at 1 :37.014 and holding off the BMW for the Overall Win.
Hammer-Motorsports would like to thank Team Corporate Partners Lucas Oil, G-LOC Brakes and ChillOut Systems.