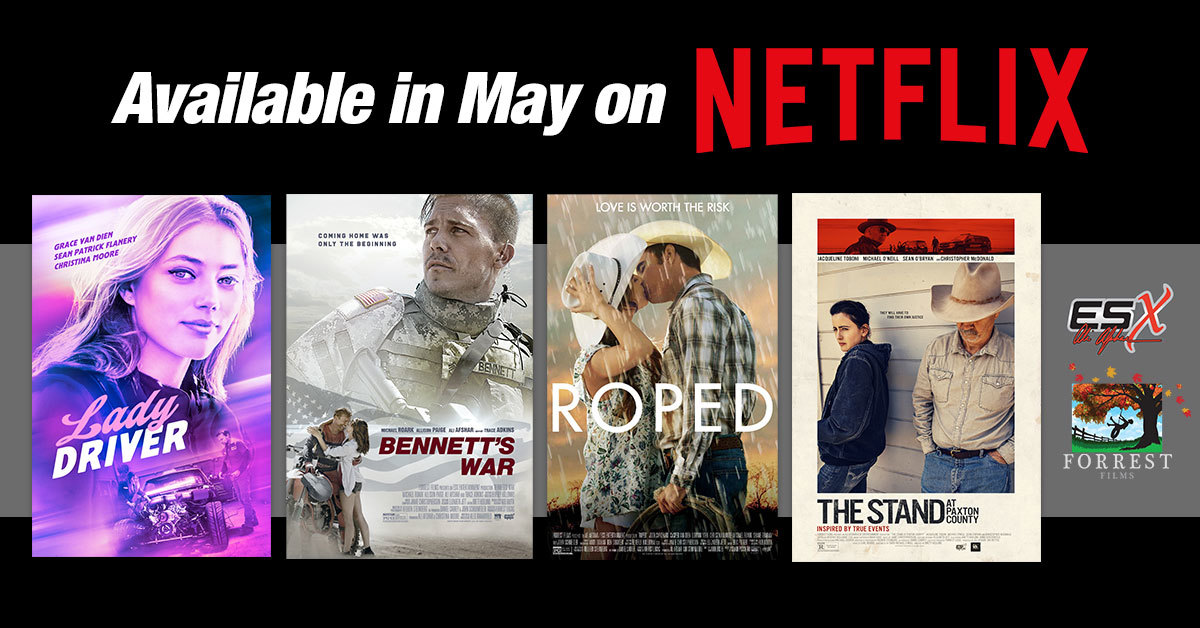 "Lady Driver," "Roped," "The Stand at Paxton County" and "Bennett's War" Now Available for Streaming
Corona, Calif. (May 6, 2020) – Lucas Oil Products, the California-based distributor and manufacturer of oil and additives, announces the digital distribution for four feature films produced by ESX Entertainment Productions and CEO of Lucas Oil and Forrest Films, Forrest Lucas. "Lady Driver," "Roped," "The Stand at Paxton County," and "Bennett's War" are now available for streaming on the Netflix platform.
The digital releases come at a perfect time as the demand for streaming entertainment continues to rise. The four films offered cover a mix of different movie genres to provide something enjoyable for all viewers. Those interested in high-stakes action will enjoy the wheel-to-wheel racing featured in "Lady Driver" and "Bennett's War." For lovers of heartfelt dramas, "The Stand at Paxton County" and "Roped" both offer emotional stories where the main character fights for the ones they love – an excellent option come date night.
Lady Driver – PG
Star of NBC's "The Village" Grace Van Dien transforms into the role of a rebellious teen on a journey to connect with her roots. However, when her travels lead her to the sport of dirt track racing, she discovers what she was searching for was already inside her the entire time.
Roped – PG
Josh Swickard, star of General Hospital, plays a star cowboy in a traveling rodeo who falls off course when he falls in love with the town councilman's daughter. Torn between her father's beliefs and her newfound love, Tracy Peterson, played by Lorynn York, is now faced with the ultimate decision.
The Stand at Paxton County – R
Jacqueline Toboni stars in this drama as Janna Connelly, a US Army veteran who comes back home to find the local sheriff with nefarious ties is harassing her father and targeting his livestock. Janna now finds herself confronting her buried emotional past as she wages war against corrupt political forces.
Bennett's War – PG-13
After surviving an IED explosion in overseas combat, Marshall Bennett, played by Michael Roark, is medically discharged from the Army Ranger Motorcycle unit and sent back home. When he returns home, Marshall discovers his father, played by Trace Adkins, is on the verge of losing the house and decides to make an improbable return to motorcycle racing in hopes of winning enough prize money to save his father's farm.
"Lady Driver," "Roped," "The Stand at Paxton County," and "Bennett's War" can all be streamed on Netflix from May 2, 2020, until April 20, 2024. All four movies are available for Netflix users in the United States, Puerto Rico, Canada, the United Kingdom, Ireland, Australia, and New Zealand.
Log in to your Netflix account for more information or to begin streaming one of the films mentioned above.
---
About Lucas Oil Products, Inc.
Lucas Oil Products was founded by Forrest and Charlotte Lucas with the simple philosophy of producing only the best line of lubricants and additives available anywhere. Since its inception, Lucas has steadfastly adhered to this corporate objective. Through innovative product research and development, along with aggressive marketing programs, Lucas has established itself as the top selling additive line in the United States. Additionally, Lucas Oil offers a premium line of motor oils, greases, fuel treatments, industrial lubricants, and problem solving additives to help firmly establish Lucas Oil as a prominent figure in the marketplace.
About Forrest Films
Forrest Films launched in 2019 as a vertically integrated entertainment company and was previously housed on the Warner Bros. studio lot. Forrest Films develops, produces, finances and releases feature films that tell inspiring and purpose driven stories for global audiences and its slate includes (in addition to "Lady Driver", "Roped", "The Stand at Paxton County", and "Bennett's War") inspirational action/drama "American Fighter"; the comedy "Wheels of Fortune"; and the inspirational action/drama "Mickey Kelley". Roadside Attractions, a sister company of Lionsgate, has acquired all U.S. rights to the company's inspiring true story of extreme sports legend John Buultjens, "The Ride". Roadside Attractions will release the film in U.S. theaters in the near future.
Forrest Films funds and orchestrates theatrical release campaigns tailored and scoped individually for its films, fully supported with the marketing, advertising and publicity needed to open each film. The company's initiatives are supported by a media fund, backed by Forrest Lucas, founder and owner of Lucas Oil Products, Inc., Lucas Oil Production Studios, MAVTV, Lucas Oil Speedway, and the naming rights to the Indianapolis Colts' Stadium, "Lucas Oil Stadium", etc., which allows the company to not only finance the production of feature films, but also provide P&A funding for theatrical releases.
For more information, visit www.LucasOil.com and on Facebook at www.facebook.com/OfficialLucasOil