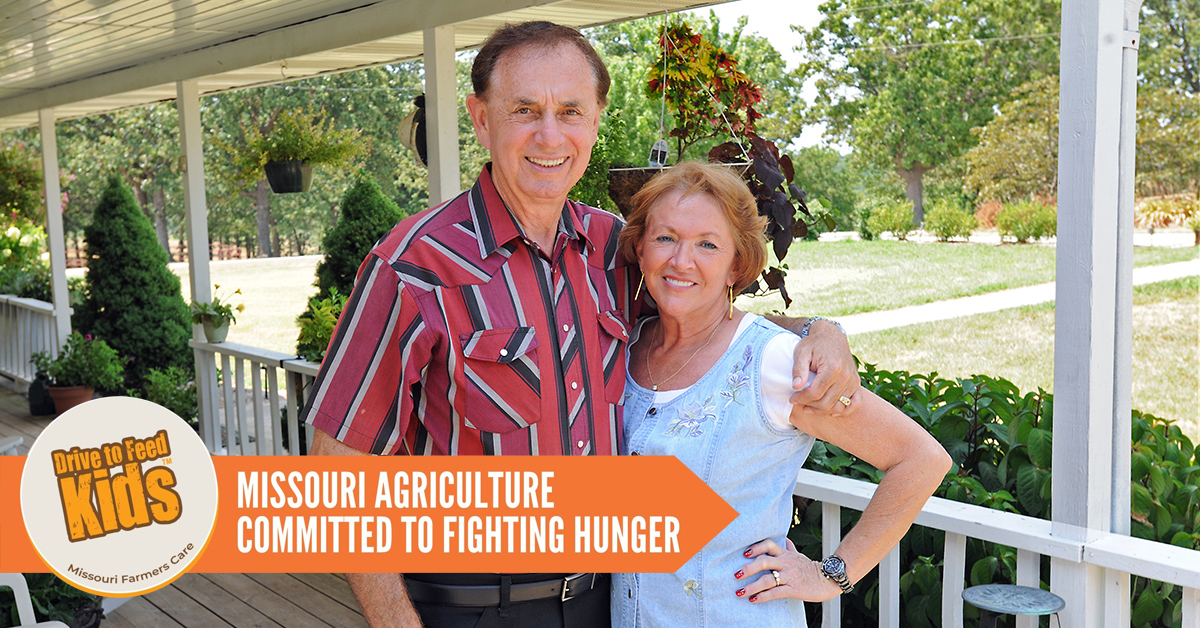 Forrest and Charlotte Lucas, founders of "Protect The Harvest" (PTH), are again joining Missouri Farmers Care Foundation (MFCF) Drive to Feed Kids initiative to make a difference in the fight against hunger in Missouri and build awareness of Missouri agriculture. Since 2017, their support has provided over 100,000 meals for Missouri's hungry families. With the leadership of Missouri agriculture, 2,015,088 meals were packed, processed and donated through the 2021 Drive to Feed Kids.
"Forrest and Charlotte Lucas have made an outsized impact in Missouri agriculture through their leadership and generosity," said Ashley McCarty, Missouri Farmers Care Foundation executive director. "Protect The Harvest has been a leader in raising awareness and support for agricultural production and protection of rural and agricultural values and way of life. Their generosity through Hogs for Hunger and the Drive to Feed Kids has met needs and brightened the future for Missouri children and families."
According to Feeding America, one in eight adults and one in seven children across Missouri face food insecurity. In rural areas, as many as one in five adults and one in three children are faced with uncertainty as to where their next meal may come from.
"Forrest and Charlotte Lucas both come from humble backgrounds in rural communities. Their upbringing has given them compassion and a great burden for those who face food insecurity in America. The Lucas family and Protect The Harvest will continue to do all we can to protect American agriculture and those affected by food insecurity," said Theresa Lucas McMahan, Protect The Harvest board secretary.
The 2022 Drive to Feed Kids lead off with the 4-H Feeding Missouri effort. Statewide, 264,658 meals were raised by Missouri 4-H members. To continue the fight against food insecurity and provide protein for food insecure families, the Drive continues with Hogs for Hunger. Missouri pig farmers and 4-H and FFA members are invited to commit pigs to Feeding Missouri, the network of Missouri food banks. Feeding Missouri will pay $0.80 per pound for the pigs, MFCF will pay for the processing, and the meat is donated to Missouri food banks. In addition, up to 50 pigs will be accepted for donation from members exhibiting at the Missouri State Fair.
Activities at the Missouri State Fair in Sedalia will commence with 4-H members packing meal kits on Farm Family Day, August 15. On Missouri Farmers Care Food Drive Tuesday and Missouri FFA Food Insecurity Service Day August 16, hundreds of FFA members will pack over 150,000 meals. Then, during Governor's, Legislators' & Judges' Day August 18, state and agriculture leaders will join together to assemble food kits for food insecure students and families.
The Drive to Feed Kids first launched in 2017 with a goal of building collaborative partnerships among non-profit organizations, farmers and ranchers, and agricultural businesses committed to addressing food insecurity in Missouri. Since then, partners in the Drive to Feed Kids have provided over 8,698,000 meals to Feeding Missouri's network of food banks. Individuals can learn more, commit hogs to Hogs for Hunger and support the Drive to Feed Kids at www.MoFarmersCare.com/drive.