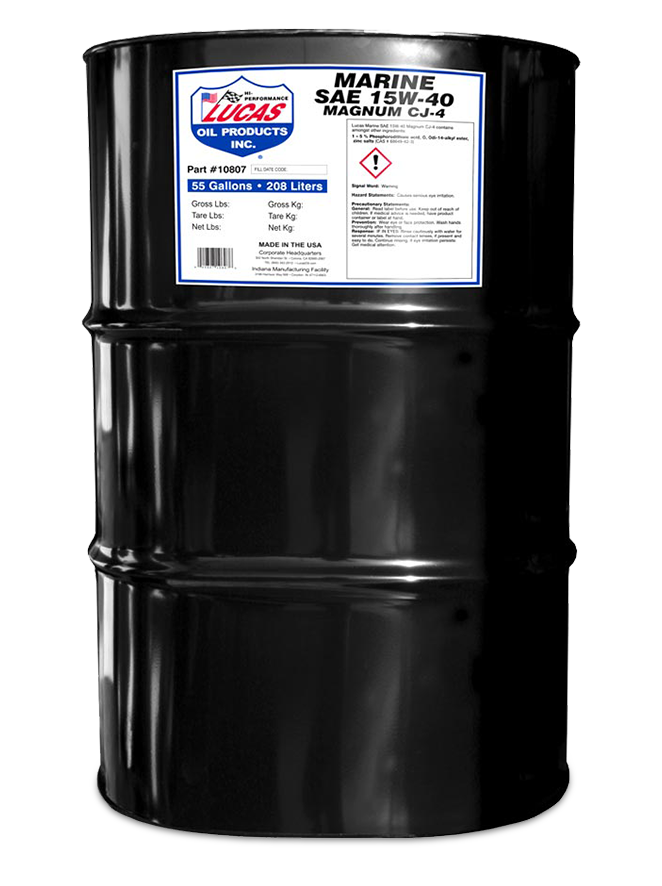 Marine SAE 15W-40 API CJ-4
Lucas Oil Marine SAE 15W-40 CJ-4 Oil is blended with premium base oils and "Lucas" additives. You can expect less oil consumption and reduced engine wear. It resists oxidation and thermal breakdown for total protection in new and older marine engines. Provides increased lubricity, lowers oil temperature, reduces engine noise, increases oil pressure, and reduces soot levels. Suitable for use in gasoline and diesel powered engines.
Lucas Oil Marine SAE 15W-40 CJ-4 Oil is backward compatible with all old and new engines using Ultra Low Sulfur Diesel. Lucas Oil CJ-4 is compatible with all after treatment devices and keeps EGR engines clean.
Recommended for use in all 2007 compliant engines specifying CJ-4/ CI-4 Plus/CI-4/CH-4/CG-4/CF-4/SM & European and OEM claims. Meets or exceeds Mack EO-O Premium Plus '07, Cummins CES 20081, Caterpillar ECF-3 & ECF1, DCC PG0S 93 K218, Volvo VDS-4, Navistar DHD-1, JASO DH-2, ACEA E7, and MAN 3275. Not for use in engines with silver bearings.
Packaging
| | | |
| --- | --- | --- |
| #10807 | 55 Gallon Drum | 440 lbs |